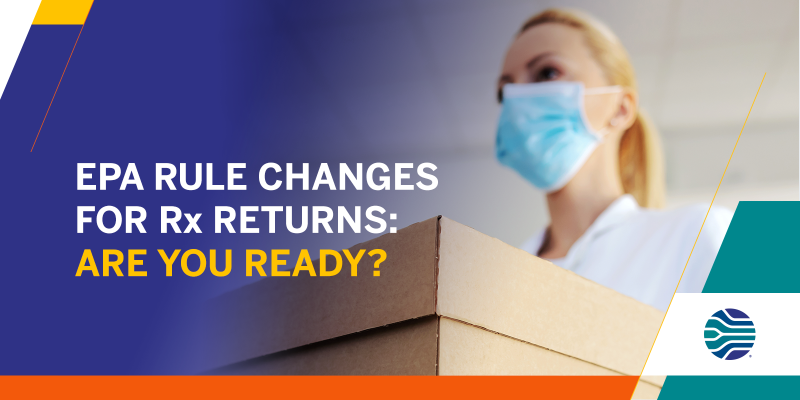 Managing hazardous pharmaceutical waste compliance is critical to your healthcare facility, but so is making sure staff have time to focus on their patients. With already complex federal and state regulations constantly changing, it might be difficult for your healthcare facility to balance those duties. You can't afford to sacrifice either one, so what's the best course of action?
Keep an Eye on the Clock
More than half the nation has already adopted the EPA's management standards for Hazardous Waste Pharmaceuticals (Subpart P). The other half will need to implement those changes — or more stringent regulations — by July 31, 2022. Preparing your staff with an overview of new regulations in the EPA Resource Conservation and Recovery Act (RCRA) could be time consuming, and compliance is on the line. Every moment counts.
Stakes are High
These RCRA rule changes impact how every staff member handles hazardous pharmaceutical waste. If they're not properly trained and prepared, you may be out of compliance. That could mean trouble for your healthcare facility, since all reverse distributors are required to report noncompliance with EPA Subpart P regulations. Inmar began reporting in February 2022 when Texas, the location of one of our returns facilities, adopted the federal rule. 
So how do you adequately equip healthcare workers — quickly and easily — and keep your pharmacies and healthcare facilities running smoothly?
A Simple Solution
Inmar Intelligence has created an easily digestible resource guide for your healthcare facilities to help staff learn and maintain best practices for new regulations without sacrificing patient time. Let us help your healthcare facility with recent EPA rule changes and their impact on hazardous returns management.
This informative guide can serve as a quick and simple staff reference on . . . 
What Potentially Creditable Hazardous Waste (PCHW) can go to a reverse distributor
Which exempt items can be sent to a reverse distributor
What can't be shipped to a reverse distributor
Your staff's time is valuable and their work demanding. They don't need the extra hurdle of memorizing every new compliance requirement. Make it easier on them with this handy reference they can quickly consult when dealing with hazardous waste management decisions. Without needing to spend their time researching every item, your healthcare workers can devote their energy where it's really needed — patients.
Help your team stay on track and your pharmacies and healthcare facilities stay compliant in one simple move. 
Download our EPA Subpart P resource guide now.