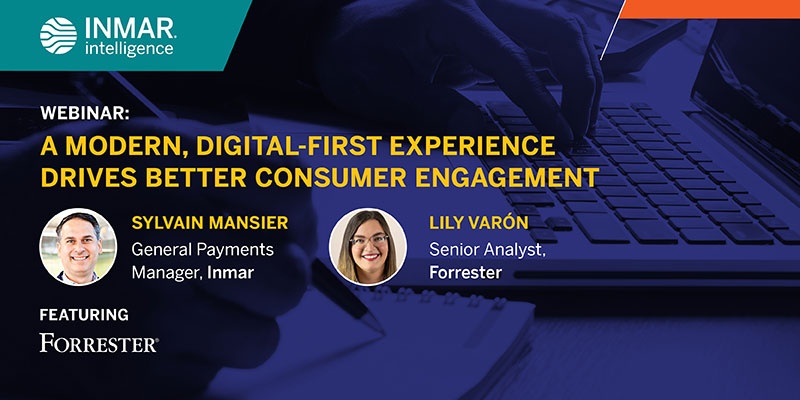 Listen to our most recent webinar where Inmar's GM of Payments, Sylvain Mansier and guest Forrester Senior Analyst Lily Varón had an in-depth conversation about payment trends and how brands can adapt new, digital-first strategies to increase loyalty and consumer engagement.

As digital payments gain steam, cash and check usage are dropping quickly. Not only do consumers prefer faster and easier digital payments — which can help boost loyalty — but migrating from paper to digital also reduces business costs.

Learn more on how and why companies should prioritize digitization on how best to achieve these goals. Watch the webinar below!


Speakers Background
Name: Sylvain Mansier
Title: General Manager, Payments, Inmar

Bio: Sylvain leads business and product strategies for Inmar's FinTech business unit, including B2B payments, fraud mitigation and analytics solutions. An innovator and leader, Sylvain has extensive experience in solution development as well as developing and implementing strategic partnerships with financial institutions. Prior to joining Inmar, Sylvain founded Sungage Financial, a B2B2C FinTech company focused on consumer finance. While at Sungage, he created and brought to market two novel consumer financial products. Sylvain also held a leadership position in the FinTech division of Toast, a leading POS technology and payment solutions provider.

Name: Lily Varón
Title: Senior Analyst, Forrester

Bio: Lily Varón is a senior analyst serving digital business strategy professionals. Her research focuses on the evolving role of payments and billing technologies in winning, serving, and retaining customers in the age of digital business. She helps B2C merchants understand the merchant payments processing landscape, evolving consumer payments behaviors, and how their payments acceptance strategies must adapt to serve their customers. In her research on billing technology, she focuses on how the future of buying — in both B2C and B2B models — will pressure every business to modernize its billing relationships and the technology that underpins them.