RESKU RETURNS™
Reduce cost and eliminate waste on product returns in omnichannel retail and pure e-commerce.
RETURNS SHOULD BE EASIER. THAT'S WHAT WE DO.
Whether your customers shop with you online or in store, we believe returns can be easier for your customers, more profitable for your business and better for the environment. With Inmar Intelligence:
Your customers get an easy, convenient return experience every time, through our agreement with Happy Returns online returns & exchanges solution (ORES), with 2,700 locations within a 5-minute drive of 71% of Americans.
Your business gets shipping and transportation savings, value-based return processing to maximize recovery, and new, actionable insight to better manage your business.
The environment gets a lot less trash and junk in it.
Customers get choices. You get consistency and control of returns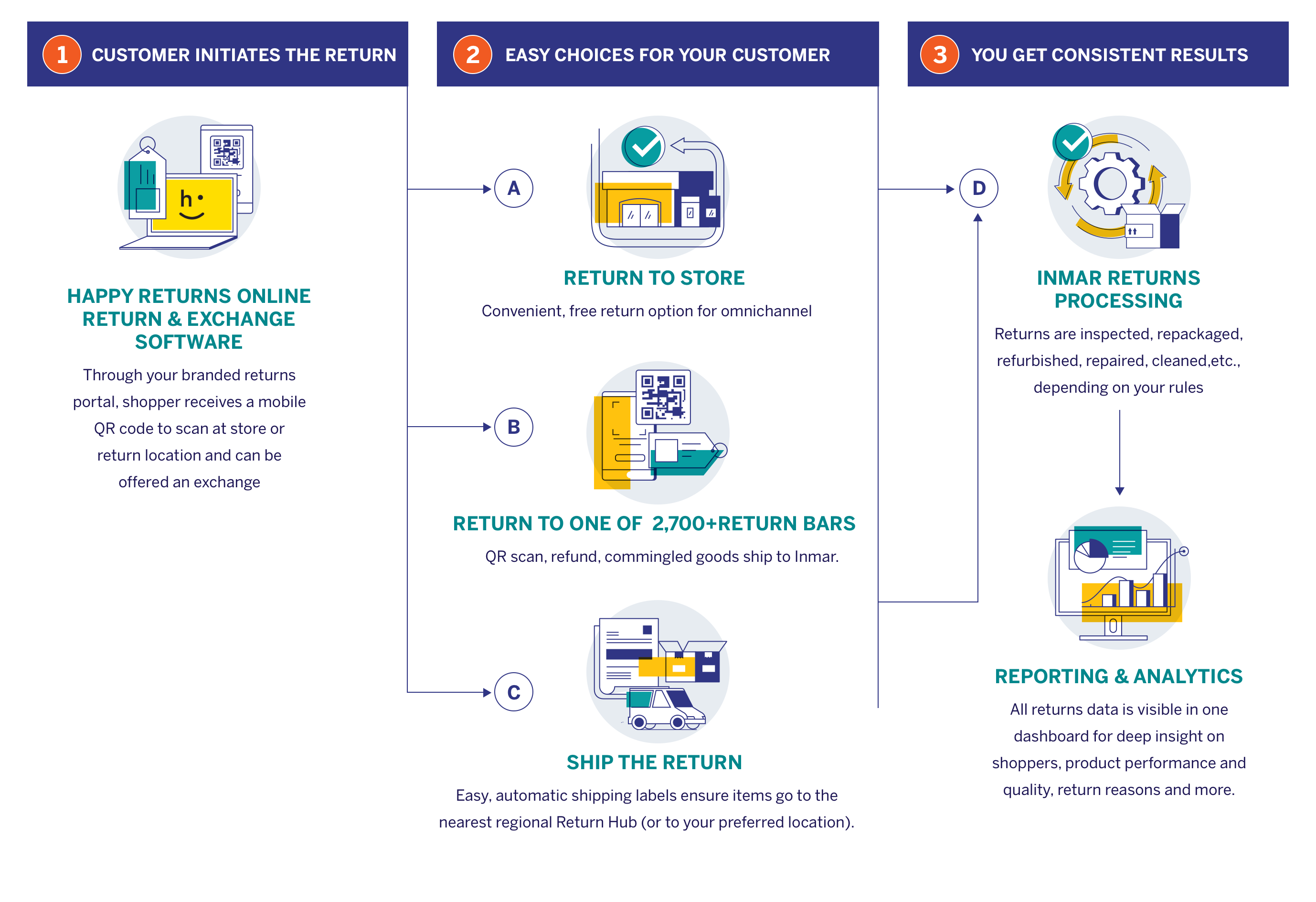 RESKU RETURNS IN-STORE
IN-STORE SORT GUIDANCE FOR RESTOCKING OR FOR REGULATORY COMPLIANCE:
Store-based retailers can now pre-sort in your stores or facilities to improve restocking velocity. 
If you have products that must be waste-characterized when returned, easily scan your returns against Inmar's industry-best database to make compliance a simple part of return processing.
Software guides compliant sorting into your haz process and generates compliance documentation.
RETURNS PROCESSING
INMAR'S NATIONWIDE FACILITY NETWORK REDUCES SHIPPING AND TRANSPORTATION SPEND, SAVES TIME AND LABOR
Inmar's network of facilities can be used to route returns from stores, DCs or direct e-returns to the nearest Inmar facility, enabling:
Faster return-to-stock for e-commerce returns 
Reduced transportation cost 
Zone-skipping 
Scalable growth capacity
Fewer touches and regional facilities reduces your cost and carbon footprint for a more economical, environmentally responsible solution.
SUSTAINABILITY
We think helping save the planet is one of the coolest things we can do. It's part of what gets us out of bed in the morning:
98% of what we process goes back into commerce, into donation programs and into energy-from waste programs -- NOT into landfills.
Return dropoff through Happy Returns locations uses ZERO shipping packaging.
The proof is in our clients' success
See examples of how our clients recover value on returns every day.