Enhance the aesthetics, branding, cleanliness, comfort and safety of your facility.
of US hospital pharmacies use Inmar Comfort Mats
annual cost in lost worker productivity due to pains associated with standing for long periods of time
Floor mats have multiple applications in retail and service facilities, including:
Slip prevention
Keeping areas clean and dry
Increased brand presence
Enhancing comfort
Fatigue prevention
We offer solutions for all of these needs, and more. We'll work with you to understand the needs of your facility, discuss different options, and recommend the right mats to meet your objectives.
Scraper, Wiper, and Scraper/Wiper Mats
Entrance floor mats help trap dirt and water and prevent slips and falls. You can place them inside, outside or anywhere in your facility that gets wet. We offer a variety of options, including printed mats that enhance branding and messaging. Choose from: 
Welcome Clean
Entrance Dry
Entrance Dry Modular Tiles
Welcome Print
Certigrip
Peel & Stick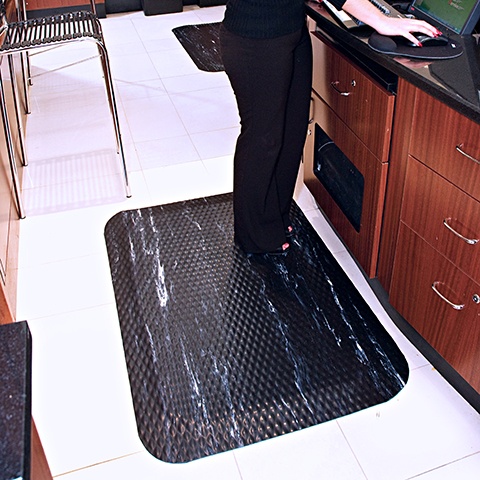 Anti-Fatigue/Slip Resistant Mats
These ergonomic mat options can increase worker comfort, reduce fatigue, lessen absenteeism, boost productivity and — most importantly — minimize injury risk. Choose from:
Inmar Comfort Mat
Inmar Cushion Modular Tile
Inmar Runner
Marble Comfort
Café Dry
Industrial Dry
All-Purpose Comfort
Stand-Eze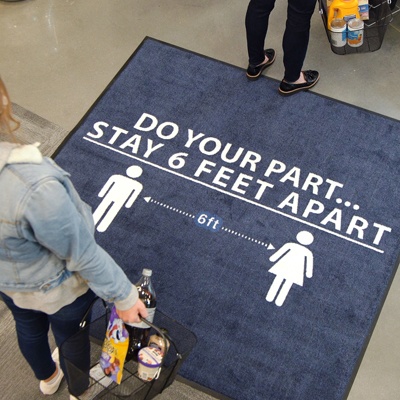 Social Distancing and Hygiene Message Mats
Turnkey floor matting solutions that help promote safety for patients, customers and employees during this time of COVID-19. 
Various designs, messages, dimensions and fabrications are available.