Managing reverse logistics can be complicated. Our tools, processes and regulatory expertise make it easier.
the industry's best overall accuracy
of all Rx Returns nationwide flow through our processing facility
of products received are destroyed
With more than 25 years helping clients — servicing over 50,000 pharmacies and 85% of US Hospitals, and processing over 95% of the industry's wholesale returns — we are proud to be the leader in pharmaceutical returns.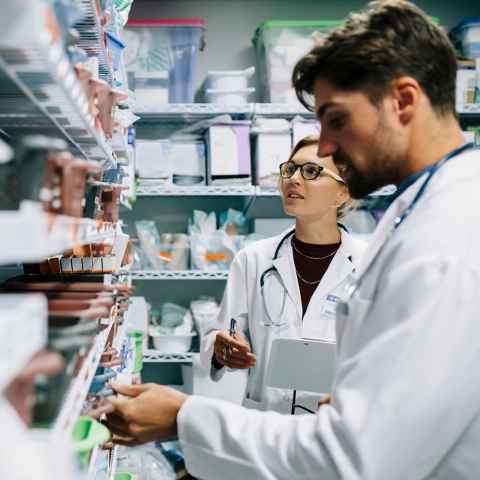 We help clients minimize liability and drive profitability in a compliant manner, delivering:
Industry-leading accuracy
Automation
Policy management
Better reconciliation, documentation and benchmarking vs. the industry.
We handle physical processing, financial transaction and disposition of:
Fulls
Partials
Recalls
Indates
More

Automated to increase efficiency and accuracy
Thanks to the industry's highest overall accuracy — 99.9% — we increase speed to revenue. How?
Our automated 2D barcode receiving system saves on shipping and labor by including controlled and non-controlled products in the same box at the pharmacy.
Our One Touch Advantage® solution with manufacturers reduces the risk of diversion/loss — and drives faster/maximum credit.
We continually update our database of manufacturer return policies ensuring we access and utilize the industry's most accurate information.

Flexible models to meet your needs
On-site service performed by our experienced employees.
Off-site service is also available, with flexible on-site service for some locations if needed.

Proactive service strategy.
Consultative account management via a dedicated client team provides ongoing support and business analysis.
Benchmarking vs. the industry.
Industry updates (regulatory and compliance updates).

Even after the return, our solutions keep working for you. In fact, our web-based software provides superior reporting to improve processes and document compliance. You'll receive detailed and easy-to-use business reviews offering insights into your processes.

Our One Touch Advantage® benefits to retailers
Reduces discrepancies and risk of diversion/loss.
Drives faster credit, improving payment cycle time by an average of two weeks.
Reduces carbon footprint.

Compliant, even when regulations change
We ensure compliant disposition of DEA, EPA and USDA regulated products — and provide the required waste characterization, recall management and counterfeit detection.
We maintain over 50 licenses related to Rx returns, and participate in regulatory agency inspections — including DEA and state health departments.
 

No local IT implementation required
Our web-based software provides superior reporting — to improve processes and reduce returns — without requiring local IT implementation at your locations.
VIDEO CONTENT
See our full gallery of healthcare-related video content ranging from previous webinars to industry insights and more.