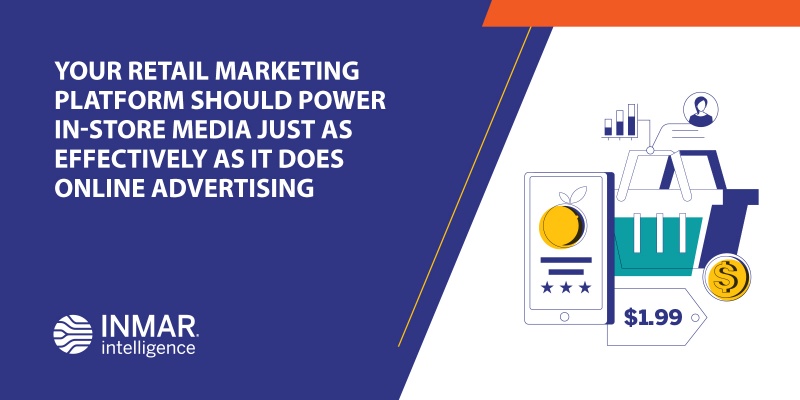 In a recent article, Steve Ustaris, VP Marketing at Inmar Intelligence, published his thoughts on the next step beyond retail media networks as a phase III - Retail Marketing Platforms. Reaching shoppers inside the store is a lynchpin to leveraging this data-driven, shopper-centric, cross-channel platform strategy effectively. After all, your campaign's last chance to influence a shopper's decision is at the point of purchase.
Brands are seeking to run cohesive omnichannel campaigns, and retail marketers should have a platform that offers a variety of in-store ad inventory to meet a mixture of advertiser needs and enhance shopper experiences.
In-store media does more than drive awareness
In-store advertising has the power to convert impressions at the same speed as a digital ad on a retailer's e-commerce site. In fact, 86% of transactions happen in stores (even post pandemic) and 46% of shoppers are influenced by media in the store as they select products to buy.1 This impression value + sales lift for brands, and category sales lift for retailers, is a lucrative combination.
In-store media can be targeted 
By planning and measuring your in-store media based on shopper purchase data, signage can become a 1:few vehicle — with messaging targeted to audiences who are shopping certain aisles, categories and stores. This is possible with print — yes print — signage. Once you shift some of the media inventory into digital formats, the intelligence of shopper-centric, data-driven, in-store media holds true — but starts executing faster so the speed of test-and-learn exponentially hastens.
In-store media can be personalized
Signage within a retail store can even become a 1:1 vehicle, by encouraging customers to either scan a code, or text to get a coupon/create an account. The ability to tie together the impression, engagement, and conversion creates a new audience segment for retargeting. Engaging with shoppers 1:1, with program-centric messages, creates a positive shopper connection and solves the craving for personalization.
In all use cases, advertising inside a store has a high media impression value because of its proximity to the point of purchase. Every shopper that enters the front doors, picks up a basket or cart, and walks the aisles, creates addressable impressions. Impressions and incremental sales lift are both measurable by using a retail marketing platform's shopper data.
Become a best-in-class in-store media owner
Provide a blend of print and digital inventory for advertisers, packaged with online media. Print signage can flexibly be placed throughout the store and engage shoppers to extend an experience with their mobile device. Digital signage opens new demand channels, like programmatic, while still offering CPGs the ability to buy directly — a truly optimized inventory yield. 
Ensure CPG-funded media inside the store has a message tailored to your shoppers and programs. Using data and analytics, in-store media can be placed at the right store, in the right aisle with the right message. Dgital media allows advertisers to target a message based on the time of day, or day of week.
Use your retail marketing platform and shopper data to measure in-store media performance based on both impression value and sales lift, to truly demonstrate an incremental return on spend to advertisers.
By embracing the full potential of in-store media, retailers can deliver impressions, activation, and attribution to their advertisers in a cohesive campaign with out-of-store vehicles — ultimately creating stronger value for their brand partners, growing category sales, and creating a better experience for their shoppers.

1Source: "Grocery Trip Purchase Influences (Path to Purchase Institute, March 2021)"