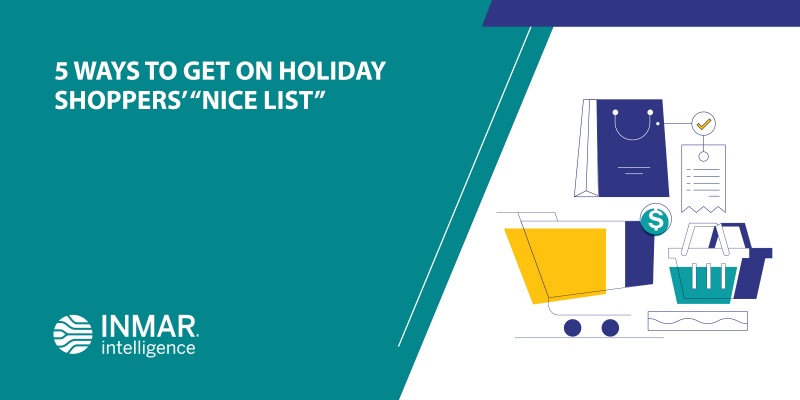 Welcome WIIM Members! Want 10% off your first campaign? Contact us today.
It's time to start planning how you'll reach shoppers during the not-so-distant holiday season. But, getting into the shopper's mindset can be tricky. Holiday shoppers aren't all alike — they shop through different channels, entertain for multiple occasions, and purchase gifts for various people. 
To help with your campaign planning, we carefully identified key buyer personas from shopping behavior and purchase data ingested directly from retailers, brands, and e-commerce websites using ShopperSync™ — our proprietary data intelligence platform. Understanding how to reach and engage with these five shopper groups — The Online Shopper, The In-Store Shopper, The Sale Hunter, The Host, and The Gifter — will be crucial to your holiday campaign success. 
Here are five ways you can reach shoppers this holiday season: 
1. Reach The Digital Shopper with personalization
Consumers crave personalization, and 71% get frustrated when their shopping experience is impersonal. You need to reach The Digital Shopper with the right message, through the right channel, at the right time. Shoppers making their holiday purchases online or through social channels are more likely to respond to personalized offers and custom-crafted content that provides unique value. 
Segment shopper lists, and send deals that will matter. Be precise, target well, and personalize every promotion, thought leadership piece, and in-store sign. Luckily, there's some room for trial-and-error. We know that the Digital Shopper browses multiple times per week at the least. Test content and messaging — strategically — to virtually guarantee success.
2. Create a memorable experience for The In-Store Shopper
Research shows that physically holding products results in psychological ownership, which motivates desire and purchase decisions. This makes our jobs easier, since shoppers are choosing to visit physical locations specifically to touch and feel products of potential interest.
Treat the in-store shopping experience as just that — an experience. Though digital shopping may offer convenience, The In-Store Shopper prefers to make events out of errands. Add enjoyment to shopping occasions with exciting in-store signage, hands-on opportunities, and personalized engagement. A personal touch will go a long way this holiday season.
3. Convert The Sale Hunter into to a brand loyalist with the right offer
While The Sale Hunter has been known to routinely switch brands and retailers to find the right price, there is still a way for marketers to earn their loyalty. However, providing these shoppers with a simple offer or rebate won't be enough, as they will just keep chasing the next deal. 
You can earn the loyalty of The Sale Hunter by consistently providing value throughout the holiday season. Engage shoppers through a brand loyalty experience — using an AI messaging experience — that incentivizes repeat product purchases in exchange for higher rebate values or unique prizes. Within that same experience, you can inspire new usage occasions with influencer content, and drive purchases throughout the holiday season. 
4. Make entertaining simple for The Host
"Convenient" and "easy" are trending keywords in relation to holiday hosting, and you can earn a place on The Host's nice list by making their holiday celebrations simpler. These shoppers are looking for solutions that easily guide them through their holiday stock-up shopping trips, help them discover something new, and alleviate entertaining stressors. Integrate shoppable features into your holiday influencer content or ad strategy, and provide the solution to The Host's entertaining woes by making things like purchasing hosting essentials, recipe stapes, and cocktail ingredients as simple as a click. 
5. The Gifter is going sustainable this year
Gen Z has made thrifting and finding unique items cool again, and 18% of consumers are planning to spend less on gifts this year. As a result, "DIY," "handmade," and "sustainably-sourced" are all top searches and topics when consumers are evaluating what items make it onto their holiday gift list. 
While it might not seem that sustainable and DIY-gifters are prime marketing targets, you can still impact their holiday purchase decisions with the right message and product. For example, you could provide an incentive to purchase your product during the holiday season, like donating a portion of the sale to an environmental charity or purchasing carbon offsets. Or, you could work with influencers to inspire The Gifter with DIY present ideas featuring your brand. 
To learn more about the shoppers driving holiday purchase decisions — and how you can effectively reach them — download your free copy of our 2021 Holiday Persona Guide today!