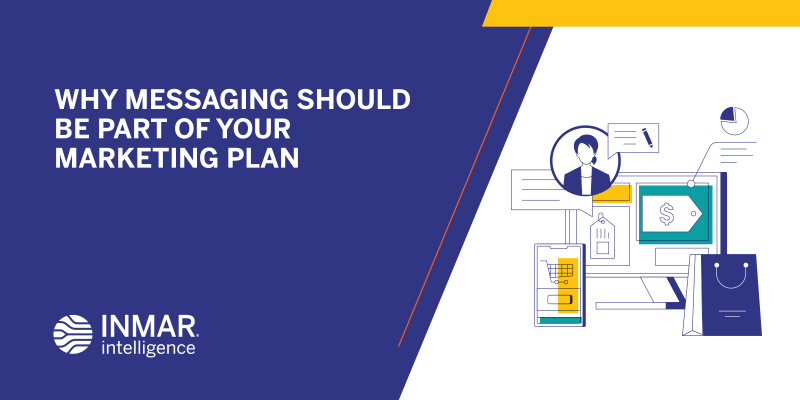 There are more ways to reach consumers than ever before, including in-store media, social ads, email, influencer campaigns, programmatic media, and messaging. But, it's the last one listed here that is more important to your marketing plan than you may think. 
Direct-to-consumer messaging, through mediums like Facebook Messenger or SMS -- is a valuable resource in a marketer's toolbox because of the personalized consumer engagement. Not only are messaging open rates and response rates significantly higher than more traditional marketing tactics such as email, but this engagement method also offers other, significant benefits: 
By adding messaging to your media mix, you can:
Establish "owned" relationships to drive customer acquisition and improve CRM
Acquiring new customers is about more than just collecting email addresses or phone numbers to populate a database. Marketers can use messaging to not only capture critical consumer data but also establish a direct, on-going line of communication with customers — creating opportunities for growing loyalty and building trust in your brand.
Quantify retail sales originating from media with full-funnel attribution
Messaging enables marketers to see and understand the full customer experience. Leveraging advanced tracking capabilities attached to messaging,  you can see everything from a customer's initial exposure to an ad, to what products or content they engage with during the messaging experience and all the way through to purchase and/or offer redemption. 
These insights drive a greater understanding of customer behavior and allow for attribution at a deeper, more personal level. They also inform strategies for engaging with that consumer in the future. 
Leverage AI to proactively address consumers' product consideration needs 
Knowing exactly what an individual customer is exploring at any given point in time, and creating a personalized marketing plan based on that behavior is the ultimate goal and by employing technology like Artificial Intelligence and Natural Language Processing to enhance messaging this lofty goal is, in fact, achievable. 
A messaging experience built using these kinds of technology can guide consumers to the perfect product, show them purchase locations, answer product questions, offer personalized rewards, and effectively incentivize purchase.
Capture SKU-level transactional data to inform future offers and activation strategies
Because messaging offers a full-funnel view into the shopper journey, you can see what additional items were purchased along with your product. 
For example, if you see that a certain brand is often in the cart with your product, you might want to consider a promotional partnership with that complementary brand for your next campaign. Or if a certain product variety is purchased more frequently than others you might want to feature that SKU more heavily in your future marketing materials. 
Drive trial, repeat purchase and measure customer lifetime value 
Through messaging, marketers not only have the opportunity to inspire initial product trial, but they can foster lifetime customer loyalty through relevant and timely retargeting. 
Keep customers engaged with your brand by continuing to offer them value; introduce alternative usage occasions, provide new recipes, alert them to new flavors, and personalized offers. And, of course, allow them to provide real-time product feedback. Retargeting customers with fresh content not only increases the chances of a repeat purchase but also strengthens the brand-customer relationship and extends lifetime value. 
To learn more about messaging, its use cases, and additional benefits check out our webinar below.