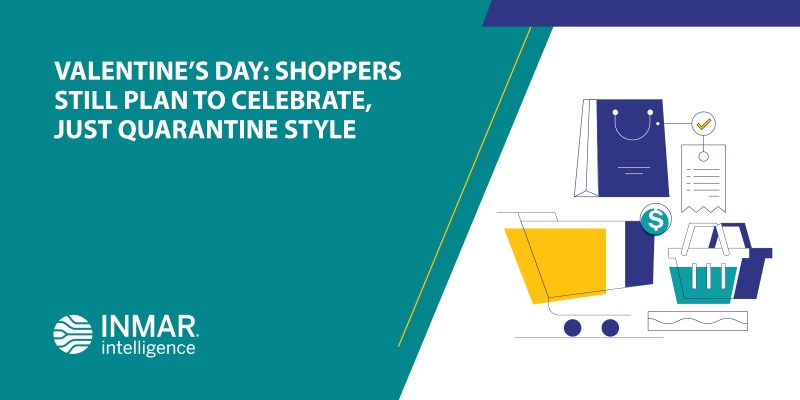 Consumers are playing it COVID-safe by ordering takeout, but still plan to celebrate their loved ones as they have in years past.
For some consumers, Valentine's Day is a staple in the US calendar. For others, it is seen as an over-hyped or overrated holiday. No matter which side you're on, one thing is for certain: as the most romantic holiday of the year, traditionally, Valentine's Day drives a high level of consumer spending. Just last year, Valentine's Day sales in the US were expected to reach approximately 27.4 billion US dollars, according to Statista. This was an increase of 6.7 percent in sales from 2019.  
It goes without saying that 2020 was a year unlike any other. COVID forced consumers to stay at home, driving online purchases and prompting families and couples to create their own experiences. With Valentine's Day right around the corner, and COVID still very much at the forefront of the 2021 agenda, we conducted a survey to take a deeper dive into the Valentine's Day shopping expectations of 1,000 consumers around the United States. What we found is that 81 percent of consumers are still planning to celebrate Valentine's Day.
Chocolate and Flowers, Still Ranked High on the Gift-Giving List
Gift giving for Valentine's Day has traditionally been a major staple of the holiday — grocery stores typically stock chocolate, flowers and candy as high as the eye can see in the hopes that some shoppers will be short on time and quick to make a purchase. Despite the pandemic, this trend doesn't seem to be going anywhere soon. 75 percent of shoppers still intend on buying a gift this Valentine's Day. 
Chocolate (58 percent) and flowers (44 percent) take the top spots in terms of specific gifts. 
Gift cards come in third place (38 percent), which may be seen as the easiest option, with the possibility to send e-gift cards over email enhancing its allure (although potentially diminishing the romanticism). 
In terms of how consumers will shop, a third of respondents (36 percent) plan to shop in-store and online, indicating that shoppers are still making their way to brick and mortar stores to make purchases. 
Nearly half (45 percent) of shoppers plan to spend the same amount they spent on a gift in 2020, with 36 percent spending under $50 on the gift. 
If you thought sending cards was fading out fast, you'd be wrong. 54 percent of respondents still plan to send a card to someone, whether this is physical or electronic. As with every holiday, returns are bound to be a part of the equation; a quarter of shoppers said that they had returned a gift last Valentine's Day.
With celebrations changing this year, reservations turn into take out orders
In years past, it would've been impossible to book day-of reservations for a restaurant on Valentine's Day. This year will be a bit different, as most respondents plan to dine at home this Valentine's Day (70 percent) and half of respondents said they plan on cooking dinner (53 percent). Nearly half still plan on ordering take out (46 percent), indicating a busy night is still in store for local restaurants.
This survey's overall findings suggest that consumers are still looking to celebrate holidays, potentially at a lesser scale, but celebrating, nonetheless. One thing that has not changed is how shoppers look to retailers for convenience, value and personalization online and in-store — especially for holidays like Valentine's Day This will remain an important aspect of a retailer's strategy in order to maintain customer loyalty.