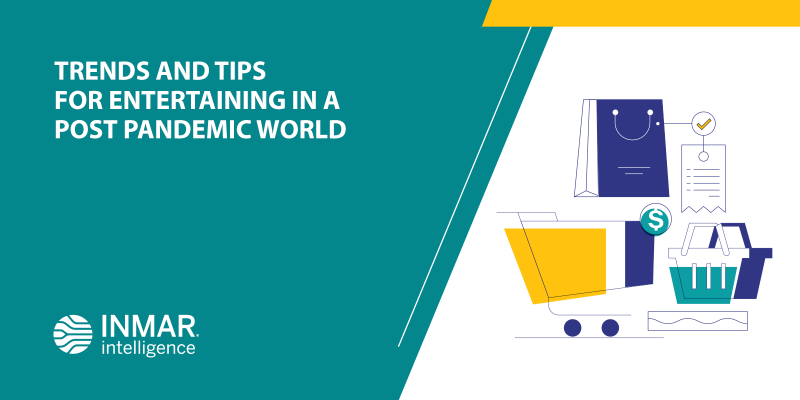 With social restrictions lifting, the volume of vaccinations on the rise, and temperatures rising, people are more eager than ever to safely re-emerge from their COVID-19 quarantine. In every family or friend group there is the go-to guy or gal lovingly referred to as "the entertainer," dreaming up the next celebration or micro-occasion to bring everyone together. I hope you've checked on your friend, the entertainer, during this long, socially distant year because they are more than likely overdue to plan a spring soiree or summer social. 
However, entertaining and hosting will look different in 2021 as consumer behavior has shifted and new trends have emerged that we predict will become the norm. According to the Inmar Intelligence 2021 Spring Consumer Survey, 76% say they plan to alter how they celebrate spring celebrations and occasions due to COVID-19. This season, get inspired by influencer and consumer trends that keep entertaining socially responsible without ditching any of the fun. 
SPRING & SUMMER ENTERTAINING TRENDS TO TRY 
Coconut and lemon are a few flavors that are trending this spring. Both flavors ranked high in consumer sentiment according to Inmar Social Listening Insights, with coconut at 90% positivity and lemon at 80% positivity. Influencers inspired by this trend can create recipe content featuring the trending flavors. Brands, use this insight to highlight your coconut and lemon flavored treats — and if you don't have any, harness the power of influencer-created recipes with these flavor inspirations. Coconut and Lemon can be featured as sweet or savory ingredients, leaving tons of room for versatility. 
#SupportSmallBusiness and #ShopLocal hashtags were trending in Spring 2020 and we don't see that support moving away anytime soon. The pandemic impacted everyone, but small businesses were hit especially hard and this social movement pushed for the trending support of local and small business. Marketers should look to partner with these  businesses to show support of this social movement, and to make their products more shoppable beyond the big box store. Items for entertaining like servingware, decorations and specialty food items can be picked up as you #shopsmall.
Your decor for entertaining should be inspired by the season at hand! Spring is full of flowers, gardening, nature, and outdoor beauty. According to the Inmar Intelligence 2021 Spring Consumer Survey, 39% of respondents plan to celebrate spring celebrations outdoors. Be mindful of guests' preferences and celebrate in the midst of the new season with a garden party, backyard brunch, or tea in the trees. Marketers, be sure to highlight all the ways your brand can be part of the celebration by featuring content and copy for spring, outdoors, and even transitioning into summer. 
Ideas beginning to bloom? Download our 2021 Spring Persona Guide to engage the four key shopper personas that are crucial to reach this spring and summer.