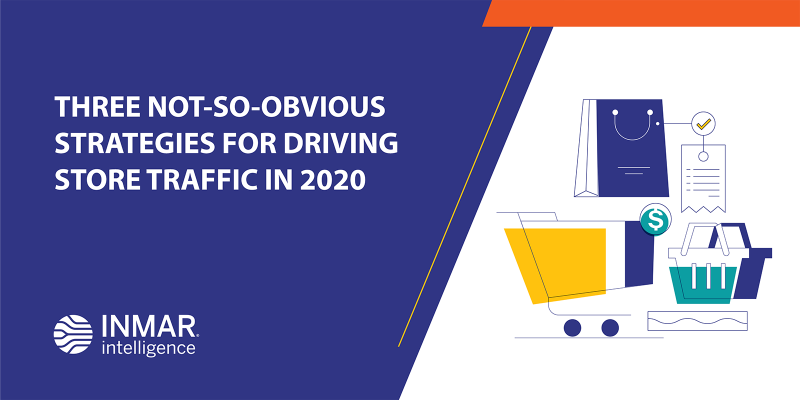 Ever notice as you're walking through a shopping area how some stores are alive with activity and some look like ghost towns -- even when their assortments are comparable? And, if you were able to look online from a similar vantage point, you'd no doubt see the same thing: some retailers attracting a meaningful volume of customers with others fighting just to maintain their relevance.
In an industry with an unquenched appetite for attribution, the simple fact remains that the more traffic (in-store or online), the higher the rate of conversion. Retailers looking to grow and maintain an audience should consider these three strategies to drive traffic in an era of retail when only the innovative will prosper.  
1. Embrace Partnerships
Retailers seem to be endlessly pivoting in their attempts to drive traffic to stores and grow sales -- shifting from EDLP to promotionally-driven engagement to enhancing assortment to attract -- all in the name of attracting more shoppers. While these previous efforts all made sense, in today's rapidly evolving retail ecosystem where success requires ongoing innovation, retailers should be actively evaluating partnerships as a means to drive more traffic.
And do so more immediately.
As an example, Kohl's allowing Amazon returns at its stores is already proving successful in driving traffic while, at the same time, creating interest in this brick and mortar retailer among a younger, highly sought-after demographic. This success hasn't yet been reflected in Kohl's earnings report so the full outcome remains to be seen, but it's clear that retailers are willing to engage in partnerships to drive success. Other, more unique partnerships like ThredUp at Macy's, will require more time to mature before they demonstrate significant, measurable value. 
Some retailers are even partnering with other retailers where the competition is much more direct, something considered unthinkable in the not-too-distant past. The Kroger and Walgreens partnership is a demonstration of retailers' growing appetite for risk as they look for ways to succeed in a continuously evolving marketplace. 
Meanwhile, Walmart is embracing this strategy -- and expanding their healthcare presence -- through a partnership with direct-to-consumer brand SmileDirectClub. This recently announced arrangement will have SmileDirectClub selling a new lineup of oral care products exclusively at the Fortune 1's stores across the U.S.
Beyond the "physical" partnerships that show promise in driving traffic is the opportunity awaiting retailers committed to securely sharing their first-party data with their CPG brand suppliers. By participating in strategic data sharing executions with brands, retailers will enable their trading partners to more effectively target their digital media -- with this more informed and brand-financed engagement driving shoppers back to the retailer.
2. Empower Associates
It's both understandable and unfortunate that many retailers view the resources on the front lines of their business -- their associates -- as the highest overhead, the hardest to control, the least compliant and the easiest to replace. This archaic view of those responsible for initiating and optimizing interaction with customers (and the lack of support they receive) is another reason why some retailers are suffering from an inability to generate or maintain customer traffic.
But, not everyone shares this perspective and those willing to better leverage their employees can easily find themselves in an advantageous position relative to their less-enlightened competitors. For instance, hybrid brand/retailer Bonobos has empowered associates at its Guideshops to create direct, personal relationships with customers. Neither commissioned nor overly aggressive, these customer service "Ninjas" are knowledgeable, responsive and trained to enable a positive in-store experience that results in a sale and/or a return visit. 
The flexibility that shoppers have to either schedule an appointment at a Guideshop or simply drop in further enhances this experience and supports the flywheel of traffic. In addition, the option to bring returns back to the store, regardless of where they were purchased, also generates foot traffic. 
It will be interesting to see which similar practices Walmart may employ in their efforts to use fashion as a traffic driver given that the retailer recently announced it's bringing back the brand Scoop NYC. Walmart's belief in the importance of store associates has long been voiced on social media by CEO Doug McMillon and with Zachary Lones further empowering Walmart associates through personal branding, it bears watching to see how this progressive approach to associate-led engagement influences traffic and conversion.

3. Change Perspective
One of the biggest challenges facing retailers when assessing where best to invest in order to drive increased traffic is determining how to measure success. Historically, a store's performance has been gauged by its most recent sales results. But, in today's omnichannel shopping environment, is that really the best way to measure how a store is contributing to organizational sales growth?
Given that shoppers can find inspiration for purchase almost anywhere, it's imperative that retailers change their perspective and recognize both the value -- and traffic driving effectiveness -- of stores that offer the experiential environments that shoppers are seeking. And that engender critical differentiation between retailers with not dissimilar assortments.
Doug Stephen's perspective is one that the industry will have to seriously consider if retailers are to innovate effectively, drive traffic and increase sales. 
Traffic creates opportunity and finding better, more effective ways to drive increased traffic should be a non-stop effort for retailers committed to prospering rather than just surviving. But, a constantly evolving marketplace demands new and more thoughtful approaches to this critical initiative. The good news is those approaches, while not-so-obvious, do exist. And, if executed thoughtfully, can attract, engage and convert shoppers.