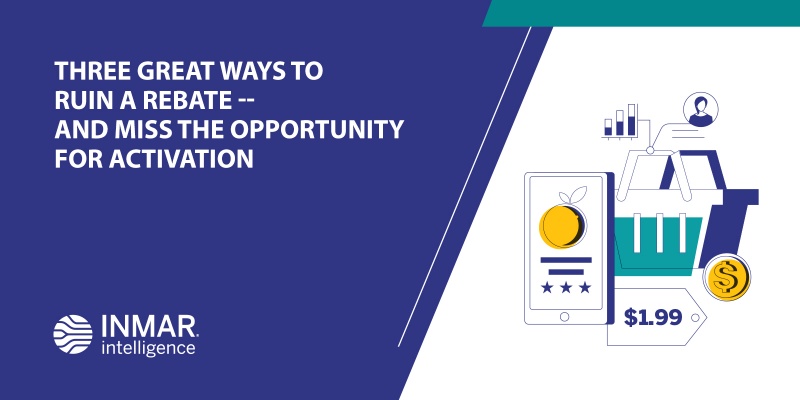 Rebates have been in the promotion playbook for years for the simple reason that they work. Delivering benefits to both retailers and brands, they help drive traffic (in store and online), inspire product trial, attract lapsed buyers and engender brand loyalty. And now, with multiple, consumer-friendly submission options and faster reward fulfillment available, rebates represent an even more powerful and cost-efficient marketing tool.
But, as with all promotions, the success of any rebate is not guaranteed. Marketers must be strategic in their development and deployment of these offers if they're to effectively engage shoppers and successfully entice purchase. Too often, however, promotion sponsors repeatedly make the same key mistakes with their rebates and, as a result, miss out on realizing the bottom line benefits of this promotion method. 
Here are the three "this really happens?" rebate-ruining errors that occur most often:
Missing the mark on offer values.
Offering a purchase reward that is too low is arguably the biggest mistake that marketers make when setting up a rebate. While this is likely the result of an understandable desire to spend promotion dollars wisely and protect budgets, committing to a rebate offer value that is too low compared to the retail price of the product will ultimately prove counterproductive as it will not be compelling to shoppers and will fail to motivate purchase. 
Shoppers, seemingly more than ever, are actively pursuing deals and looking for genuine opportunities to save on the products they want to buy. Therefore, rebates must have an immediately attractive and appropriate face value (based on MSRP) in order to get the attention of busy, savings-focused shoppers.
That's not to say that marketers should over indulge would-be purchasers with overly generous offers. Data-driven assessment can determine the optimal reward for incenting shoppers while optimizing ROI on marketing spend.
Insufficient consumer exposure to the offer.
In today's pandemic-impacted marketplace, simply leaving it to shoppers to find a rebate in store is not going to get the job done. With online shopping increasing in popularity and store trips becoming less frequent (and shorter in duration), marketers need to take an omnichannel approach to promoting rebates in order to ensure consumer awareness.
Brands must commit to engaging shoppers both in store and online. In addition to at-shelf promotion, e.g., neck hangers, shelf pads, etc., they need to generate exposure and interest via multiple digital channels including social media (both user feeds and influencer posts), their proprietary online properties and retail media networks. Full use should also be made of existing CRM capabilities to reach previously identified buyers with news of a new savings opportunity.
 It's simple. Greater exposure means greater participation. And participation starts with purchase.
Burying the call to action (CTA).
It's a rebate! Shout it loud and proud! Okay, maybe no shouting. But, with consumers inundated by content, brands that fail to prioritize their offers (and don't actively encourage consumer participation) in their marketing messaging aren't going to have anything to make noise about at the end of the promotion period.
Rebate participation CTA's should be a primary focal point of a brand's creative, not buried at the bottom of a piece of marketing material. Content should expressly state the offer, highlight the offer value and clearly portray how consumers can earn, and receive, their rebate reward. Highlighting the time period for participation in the promotion is especially important as this will help create a sense of urgency among shoppers and prompt more immediate purchase.
It's essential that consumers know they can participate in the rebate regardless of whether they make their purchase in store or online. Assuming that shoppers already know this, and not educating them to the fact, is a very good way to keep the promoted product out of their carts -- virtual or wheeled.
While these three rebate marketing missteps deserve to be highlighted they aren't the only ones that can sink a rebate. If a rebate promotion is going to be successful marketers must also be proactive in ensuring their offers are relevant, appropriately targeted and well-timed to align with both seasonal marketing efforts and long-term business goals. But, for all that must be avoided, the biggest mistake that marketers can make is failing to give rebates proper prioritization in their marketing mix.