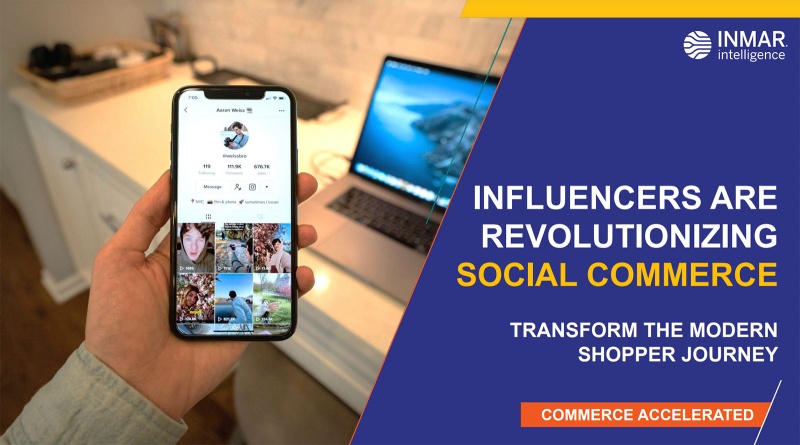 While the marketing industry has remained largely fixated on social commerce titans like Instagram and Facebook, emerging social technology platforms have been quietly building new tools and preparing for digital disruption. Now, as new formats are being unleashed upon the world of social media — throwing influencers and marketers into a major reactionary phase — everyone's looking at how these tools can be shaped to best fit social commerce goals.
TikTok Trends Toward Simplified Social Shopping
Bolstered by a recent partnership with Shopify, which allows millions of merchants to run campaigns across both platforms, TikTok's large base of influencers and ever-increasing user count speak to endless possibilities on the platform. 45% of marketers already use TikTok for influencer marketing.
The Shopify partnership encourages brands to consider TikTok as an e-commerce platform by way of a robust set of new tools. The integration promises quick, easy video creation, pixel-based performance tracking, and a boost in online sales thanks to improved audience targeting. 
This marriage of social and shopping seems to have emerged at the perfect time. Near the end of 2020, TikTok blew past two billion downloads globally. Of these two billion-plus users, almost half have been purchasing from brands they are exposed to on TikTok. Now, Shopify store owners and brands have everything needed to approach these social shoppers, thanks to an intuitive video content creator, improved audience identification, and optimized campaigns. 
Pinterest Pinpoints Purchase Potential
According to Pinterest, the number of users who engage with shopping touchpoints on the platform has grown over 85% in six months. Now, a new suite of merchant tools will allow retailers to reach and convert customers with extreme efficiency.
The most recent of these features is the Shopping List, which allows users to build and organize collections of Pinned products that they've saved across the platform. The List displays pricing, reviews, shipping, and even lets shoppers compare products side-by-side. Users can set up notifications for pricing changes as well, opening the door for the use of promotions and offers. 
Along with the Shopping List, Pinterest has added a "Goods by Pinterest" showcase that displays limited-edition products and featured brands. Users can also receive expert recommendations on products based on the availability of premium products and alignment with their shopping preferences. 
These features allow brands to take advantage of Pinterest's purchase-ready user base. Platform research informs that users who visit Pinterest weekly spend around 2x more per month and have an 85% larger basket size. Furthermore, with shopping ads, advertisers can achieve 3x the conversion and sales lift.
Influencers Build Selective, Lucrative Twitter Nests
Twitter has been rolling out regular features and updates, including near-instant messaging in Fleets and audio chat rooms in Spaces. Influencers are quickly learning to utilize and monetize these tools to motivate sales.
To be completely candid, "Tweet Paywalls" were not on the list of predicted Twitter features. However, the platform now seems to be diving head-first into the influencer industry with "Super Follows," a function that will allow users to charge for access to content. "Super Follows" will be implemented close to the introduction of "Communities," which will let users join groups based on interests. These new features borrow heavily from platforms like Facebook and Patreon, but as Oscar Wilde once said: "Imitation is the sincerest form of flattery."
In line with the platform's borrowing behavior, Twitter has also launched "Fleets." Much like Instagram and Snapchat Stories, this feature lives at the top of the feed and displays momentary thoughts that disappear after one day. This means that marketers have another opportunity to monetize transitory content like they're used to doing with Fleets' Instagram and Snapchat cousins. 
Finally, in another interesting Twitter twist, the social media giant developed "Spaces," an audio-based feature that allows users to post podcast-like conversational content. Spaces give influencers and content creators another place to bring their voice to fans and followers, and of course, marketers already recognize the social commerce potential. So pair Spaces with Super Follows for what might be the most easily monetized audio content ever.
Instagram Doubles Down on Brand/Influencer Connections
While less an "emerging platform" and more a "social commerce behemoth," Instagram deserves a spot of recognition for new and upcoming introductions. 
Just a month ago, Instagram expanded on influencer tools to give content creators a more streamlined sponsorship process. Users can tag brands in posts and, if the brand signs off on the content, posts will be designated as "Paid Partnerships." With this, Instagram also improved reporting tools to allow brands to see results of any sponsored Reels or Live content they're tagged in.  
Instagram is also looking to maintain its leading position in the social commerce race with the launch of "Drops," a feature that further blurs the line between social media user and online shopper. With Drops, brands can create hype around upcoming or limited-supply products. Users can browse through upcoming releases and sign up to receive notifications and reminders about products they're interested in.
Should I Focus In or Fan Out?
When it comes to the modern social commerce landscape, the options and opportunities are virtually endless and keeping up with the latest trends or the newest features can be hard — especially considering the industry's tendency to pivot to the next big thing at a moment's notice. So, how is it possible to keep up?
Like with any investment, diversification is key. Keeping to only the familiar tools or platforms ties investment too heavily to those sources, effectively limiting the potential of campaigns. Conversely, by branching out and exploring emerging technologies, the possibility of a runaway success becomes exponentially more likely.
Experimentation is encouraged. Explore all that Twitter has to offer with its new capabilities, indulge in Instagram's expanded library of social commerce tools, play around with Pinterest's new shopping features, and give the TikTok shopping suite a shot. Each of these platforms boasts both an enormous user base and incredible staying power — new features are bound to take off, and those who jump in early stand to benefit the most.
Complete the form to learn more by downloading our 2021 Influencers Are Revolutionizing Social Commerce Guide.