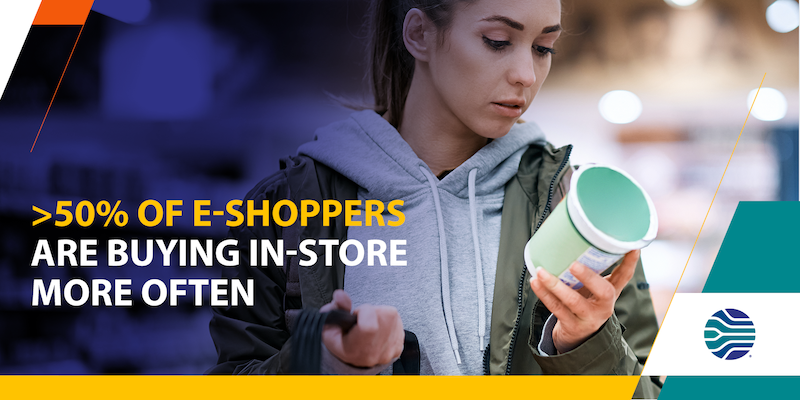 Shoppers were predicted to spend heavily during the 2022 holiday season. Despite economic pressures, that turned out to be spot on. The surprise? How much of it didn't happen on the couch.
More than half of online shoppers returned to in-store shopping last season.
According to our recent research, online shopping remains beneficial for most merchants — but with in-store shopping back on the table, shoppers are being more selective about where and how they spend their money.
When asked to pay return and/or restocking fees, only 20 percent of shoppers completed their purchase
A mere 36 percent admitted they would consider paying extra fees
44 percent said flatly that extra charges would kill the sale
66 percent indicated they purchased from 5 or fewer online merchants
93 percent said they bought all of their holiday gifts online from no more than 10 retailers
Customers have higher expectations and more online shopping demands than ever before.
The top two demands of e-commerce? Of course, shoppers care about price. But convenience is a close second — and rightly so, since online shopping means the aisles are endless and the price comparisons are real time. But what else are consumers factoring into their online shopping decisions? Our research says free shipping, free returns, and sustainability, and those three could be important no matter where the buying happens.
Merchants offering shipping and returns at no charge — and from convenient, footprint-lowering drop-off locations — give off a more values-based and customer-focused impression to their shoppers. This is particularly true for product returns. Some retailers have started charging for this service, willing to lose customers in the process, but that philosophy may be detrimental in the long run. Shoppers want to spend money with merchants they feel share their values and care about their shoppers' needs.
Online sellers searching for a competitive edge need look no further than customer loyalty.
Cover all five of the savvy online shopper's demands — price, convenience, free shipping/returns and sustainability — and you've got the perfect customer experience. That's a surefire way to brand loyalty. And knowing that online shoppers are getting all the items they need from just a handful of online merchants proves that loyalty is alive and well in digital commerce. If you want to strengthen your shopper loyalty and outpace the competition this year,  read our Boost Shopper Loyalty Through Better Returns guide for tips and insights.