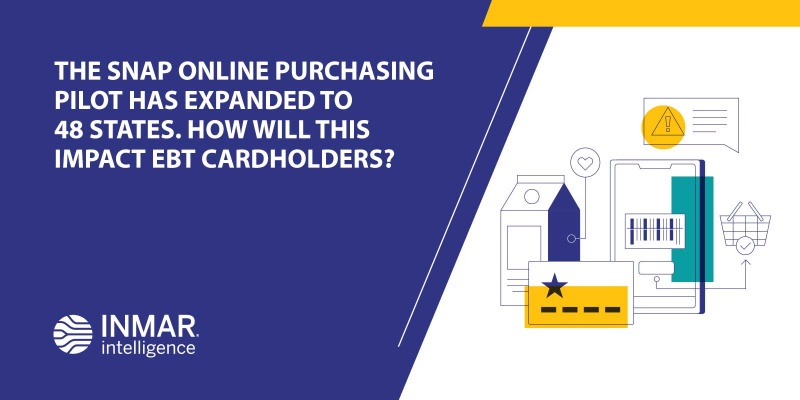 There's no debate that the pandemic has helped spur the popularity of online grocery shopping with Americans adhering to COVID-19 contact restrictions. Online grocery shopping has been available for roughly 30 years since the founding of Peapod.
If anything good can be salvaged from the pandemic, it is helping to rapidly expand the Supplemental Nutrition and Assistance Program (SNAP) online purchasing pilot -- the first major innovation within the Electronic Benefits Transfer (EBT) industry in more than two decades. 
The United States Department of Agriculture (USDA) and Food Nutrition Service (FNS) have done a tremendous job expanding the pilot faster than expected due to the need for SNAP recipients to order groceries online in the pandemic. The pilot program, which started in January 2017 with just seven states, has since expanded to 48 states - almost the entire country in less than five years.
For EBT cardholders, the ability to shop online provides a convenient and safe option. Many SNAP households are pressed for time -- working multiple jobs, child care duties, and other household responsibilities. Being able to shop online, and pick up their groceries curbside, or have them delivered, allows them to recycle time spent otherwise with family and friends. With all its advantages, there are still some pain points for SNAP shoppers. SNAP benefits can not be used for delivery, convenience, or service fees which over time add up throughout the month - these charges can vary greatly depending on order volume minimums, membership/subscription plans, flat-rates, etc. For example, delivery costs for orders over $35 fall between $5.99-$7.99 for non-members at Instacart; however, with a $9.99/month membership, delivery costs are free for orders over $35. 
With more than 90% of shoppers visiting at least one grocery store per week, these costs add up per month. There are ways to help SNAP shoppers offset these service fees. The best way is to provide a convenient, easy-to-use mobile application which SNAP recipients already use today to review their remaining monthly balances, transaction histories, and more. If SNAP shoppers are visiting multiple retailers and want to find coupons to stretch their benefits, they have to visit multiple websites or apps to select coupons. With a single app where SNAP shoppers can review multiple retailer digital coupon galleries, we can make finding coupons easier - and Inmar can do that with our LifeInCheck EBT mobile app.
The SNAP online purchasing pilot is a giant leap forward in the modernization of EBT for SNAP but the effort should not stop there. Though the rapid expansion of SNAP online shopping is commendable, it came decades later than what was already available in-market. Now, the EBT industry finds itself at the tipping point for mobile payments. It is a "new frontier." Many industry conversations are taking place to decipher the complexities of integrating mobile EBT payments for SNAP, including government-allocated funding/planning for mobile payment pilots in the 2018 Farm Bill; however, the industry is not moving fast enough, and a new Farm Bill will soon be drafted. 
Inmar Government Services is a fusion between Inmar's extensive experience in commercial technology platforms and Electronic Benefits Transfer (EBT) industry experts. Our innovative, advanced processing platform - LifeInCheck™ EBT - is designed to boast high system uptimes, flexible system architecture, easy-to-use features and mobile innovations that propel EBT host processing technology forward. Unlike other EBT processing solutions, LifeInCheck™ EBT harnesses the power of modern technology delivering innovations including new engagement opportunities, digital promotions, convenient support options, data analytics, business intelligence dashboards and mobile EBT transactions.
If you would like more information about this topic, please call Pia Ostos at 336-631-7780, or email pia.ostos@inmar.com.