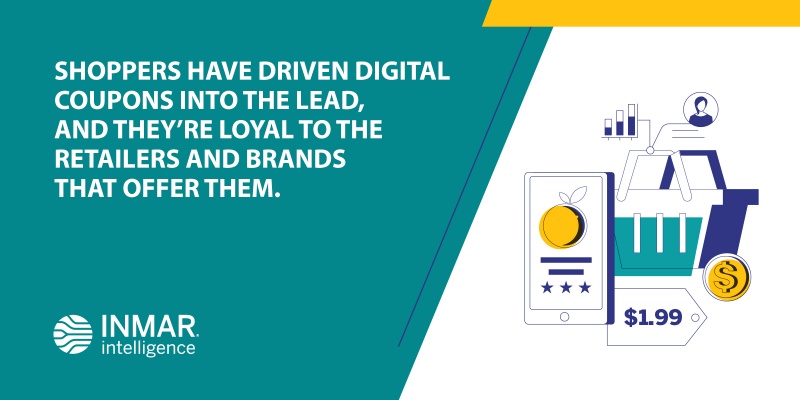 We announced earlier this year that we saw digital coupons take the lead from FSIs for the first time as the most-used redemption method among shoppers. Now that we're through Q2, we can see that trend continuing. 
Redemption volumes indicate that shoppers are gravitating more toward digital offers. With 90% of shoppers noticing price increases on grocery and everyday products, 83% are looking for more ways to save on their routine shopping trips. Even in a unique year like 2020, we still saw a 4% increase in digital coupon redemption, which then led to an 11% increase in the first half of 2021.
Shoppers are gravitating toward digital coupons, likely because they are easy to find and use on their phones. Not only are they great from the shopper's perspective, but for marketers they provide a quick-to-execute, highly targeted and measurable promotional method that allows you to easily connect the results to your objectives. Digital offers are critical for brands, regardless of their objectives. Here are a couple of examples:
Objective: Increase brand trial
Digital coupons are an effective way to reach new shoppers and incite brand trials.They allow you to lower the barrier to purchase by offering an easy-to-find, discounted price. We found that 77% of shoppers like to try new products, so if you can get in front of consumers with an offer, your brand has a chance of becoming their new, preferred product. 
Objective: Build loyalty with customers
Digital coupons aren't just a tool for engaging new shoppers. You can also leverage them to influence shoppers to increase purchase volume and build frequency. By aligning your incentives with the purchase cycle of your product, shoppers are more inclined to pull your brand off the shelf rather than switching to an alternative one. We found that coupons changed 84% of recent in-store purchases — meaning that a coupon encouraged shoppers to purchase more, sooner, or a new product.
In addition, you can offer personalized offers, of a lower face value, to loyal customers to reward their commitment to your brand. These customers are familiar with your product and the quality you offer. By providing an incentive, even if it is lower than what you would offer a new customer, it's enough of an incentive to encourage repeat purchases.
Learn more about what shoppers want and the demand for digital in our "Digital Drives Demand Amid Rising Prices" infographic. Simply fill out the form for instant access.