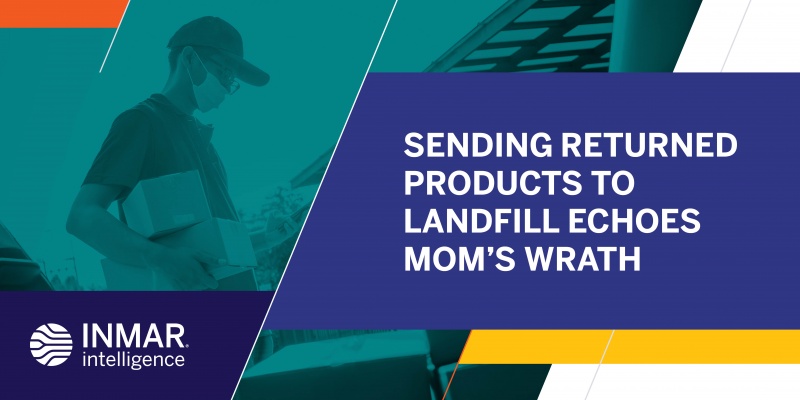 Remember when Mom used to chide you for throwing away things that she thought were still useful? You can hear her voice echoing in your head right now, "Don't you DARE throw that away -- someone might want it -- it's still perfectly useful! That's like throwing away money! What are you thinking???"
Mom had a point. It's hard to believe, but yes, every year millions upon millions of e-commerce purchases returned to sellers get thrown away -- sent to landfills. Because online buying methods generate more returns, many companies simply don't have the time or people to process returns. E-commerce buyer behaviors like "bracketing," or buying more than one size online to get the right fit, are causing mountains more returns than traditional retail buying.
And retailers often don't have the warehouse space or resources to assess whether or not product sent back can be returned to commerce. As a result, they miss massive opportunities to both recover value on product and to be better stewards of the environment.
Inmar, the leading third-party processor of returned products, finds that more than 50 percent of online purchases that are returned are in a condition that qualifies them to be returned to stock -- and with higher-end apparel, the figure is an astounding 90 percent and higher.
So why don't more companies capitalize on this opportunity? Mostly, because many companies handle returns either in their own forward distribution centers with the majority of that space and personnel devoted to moving new, full-price product into the market. Returns take up valuable space and labor, so a lot of companies decide it isn't worth the cost. With the National Retail Federation reporting that e-commerce sales grew 32.4 percent in 2020, the number of e-commerce returns is staggering, and many companies simply don't have the space or personnel to handle the volume.
But that doesn't have to translate to just throwing things away; there's still a lot of value to be recouped on purchases that "didn't stick" the first time around. Yes, there's a cost associated with hiring a third-party returns processor, but the spend essentially vaporizes in the money gained through the effort. 
Consider the example of a returned $100 dress. The cost of shipping, inspecting, steaming and repackaging that dress is about $12. Upon determination that it's first-quality, it can go back into stock for full-price retail sale and still bring in $88 toward profit and the cost of getting it to market. Compared to increasing the loss on it by simply spending money to send it to the landfill for no gain, that sounds pretty good. 
Even more importantly, a better returns processor can provide you with data on your returns to help measure product success or failure and reasons for return (or failure). This data also informs future merchandising choices and volume, as well as store performance and vendor performance. So just throwing away returns also tosses out valuable data that can have a direct influence on the success of your business.
Then there's liquidation -- even though gains on liquidation are much lower, there's still a valid gain in getting something for the returns, as opposed to adding yet another cost in paying to landfill or incinerate it. There's also a lot to be said for keeping useful products in commerce and ultimately in use… and keeping them out of a landfill. It's a good sustainability practice and it's just silly to send perfectly useful goods to the trash heap.
If you choose to liquidate, you should always do this business through a reputable company that has a large, well-vetted buyer base and that provides this service to major retailers and brands. They're more likely to get a higher return on the goods and have more channels through which to sell, and they're also likely to have the capability for protecting your brand so you don't undersell against your own products at retail. 
Got overstocks? Pristine, in-package product has value even if it's out of season or it's last year's colors or whatever. If it's in like-new condition then someone is willing to pay you for it. With no apologies for channeling your dear old mother again, "Why in the world would you throw that away?"
The long and short of this is that e-commerce returns are often good, resellable products and there are viable, affordable resources available to help you recover value from them. It's extremely wasteful not to do the homework, recover value and, ultimately, improve net sales -- and, instead, just throw things away. Do the homework -- Mom would approve.