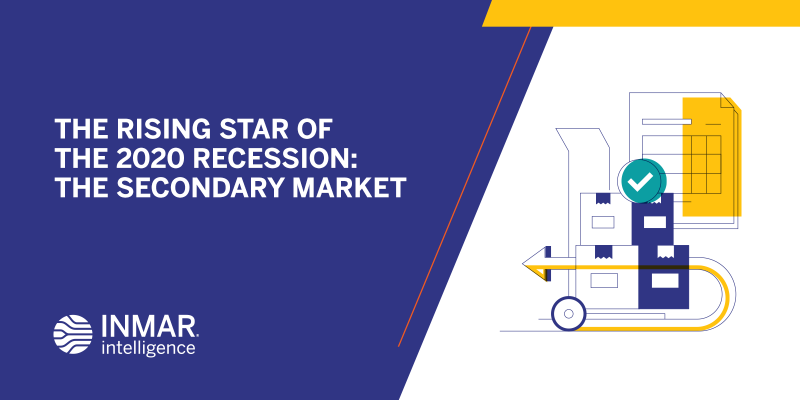 The COVID-19 pandemic has thrown the United States into a recession. Not a "downturn." Not a "correction." A recession. This unprecedented phenomenon – marked by retail-killing stay at home orders - is already impacting the very fabric of American business and virtually every sector of the U.S. economy has been negatively affected. But, there are a few exceptions. Most notable of these is the Secondary Market. This is one business segment that actually grows during a recession and it's going to grow this year even as the rest of the economy suffers.
The Secondary Market is the industry that (re)sells retailers' overstocks, excess inventory, used goods, and products returned by customers. This market is made up of salvage dealers, factory outlets, dollar stores, auction houses, pawn shops, and, yes, flea markets. And it's a very big industry. Very big. A 2019 study by Dr. Dale Rogers of Arizona State University and Dr. Zac Rogers of Colorado State University determined the value of the U.S. Secondary Market to be $633 billion. What's more, over the last 11 years, the Secondary Market has grown 6.8% on an average yearly basis.  
As for past proof that this unique industry regularly sees growth during a recession – even more so than during better economic times -- the Secondary Market grew 9.5% between 2008 to 2010 when GDP was -2%. In comparison, the Secondary Market grew only 1.7% in 2017 that saw GDP grow at 2.4%.
Now, with both small and large retailers already closed for weeks, chains missing the entire spring season, the summer selling season still in doubt and consumers forced into unanticipated buying patterns, overstocks and excess seasonal inventory will hit unprecedented levels. Liquidators will step in to buy this inventory at greater-than-normal discounts and the Secondary Market will surge. Overlaying historical growth rates seen during the Great Recession, expectations are that the Secondary Market will grow more than $70 billion over the next year to a value exceeding $700 billion in 2020.
Dealers in the Secondary Market will find it much less expensive to grow their inventories over the next 12 to 24 months as retailers, desperate to offload rapidly-aging merchandise, will sell to these liquidators at prices far below what they would normally demand. As a result, both B2B liquidators and B2C liquidators will see significant growth in revenue and profits; provided they 1) have the cash on hand to take advantage of this buying opportunity and 2) are able to acquire the right mix of inventory to meet their customers' demands.
The primary driver of the phenomenal growth ahead will be millions of Americans who are cash strapped, unemployed and looking to save a dime, not a dollar, a dime. This economically hard-hit shopper base will avoid the primary retail channels and look to the Secondary Market for the items they need to live. They will shop online and locally for the cheapest prices while ignoring cosmetic damage, worn or torn packaging and whether the item looks used or not. They will aggressively look for any opportunity to save as they navigate their way through the "new world" where store fronts are dark, shopping malls are empty and e-commerce thrives due to shoppers' hyper-migration to the greater physical safety of online shopping.
Factory outlets will also thrive. Sales at these open-air strip malls, full of brand name overstocks from leading manufacturers at greatly discounted prices, are expected to grow 13% or more to $60 billion. Similarly, dollar store sales will most likely grow more than 10% to $45 billion. Both retail formats, typically located in strip malls, will leverage their ability to control consumer access to present a clean, safe environment that will attract shoppers looking to find goods priced at a fraction of regular retail. (Of course, "a safe shopping environment" means something totally different than it did in December of 2019.)
Sales for the largest segment of the Secondary Market -- salvage dealers – can be comfortably estimated to grow 10% to 12% and top $265 billion in 2020. This segment is made of regional liquidators and locally-owned thrift stores. Their physical locations are usually in older areas of the community and they should expect to see significantly-increased foot traffic from shoppers looking to save money.
As retail space becomes more available due to store and restaurant closings, it will be the Secondary Market liquidators and thrift store operators that will fill many of these locations. In 2019, there were a number of shopping malls across the country whose biggest customer draw was a Secondary Market retailer that had moved in where a large department store had closed. And that looks likely to repeat this year as Jeff Blau, CEO of Related, a major national real estate landlord, said during an interview on CNBC that only 20% of the rent due for their mall occupants was paid in April.
The availability of commercial real estate at significantly-reduced rental rates represents an incredible opportunity for a significant expansion of the retail footprint for Secondary Market retailers across the country. Malls in a number of cities (once anchored by tier-one department stores and populated by "mall shops" and food courts) will be transformed into Secondary Market malls. The food courts may be gone, the lighting may be dimmer and the real estate may show its age but consumers will still go there to save money.
The next 12 to 24 months will be incredibly challenging for businesses and individuals across the United States. And while the elements of the "new normal" are not fully known and still forming, one certainty that does exist is that the Secondary Market will experience explosive growth as this retail channel steps up to meet consumers' needs during something none of us could ever have imagined.