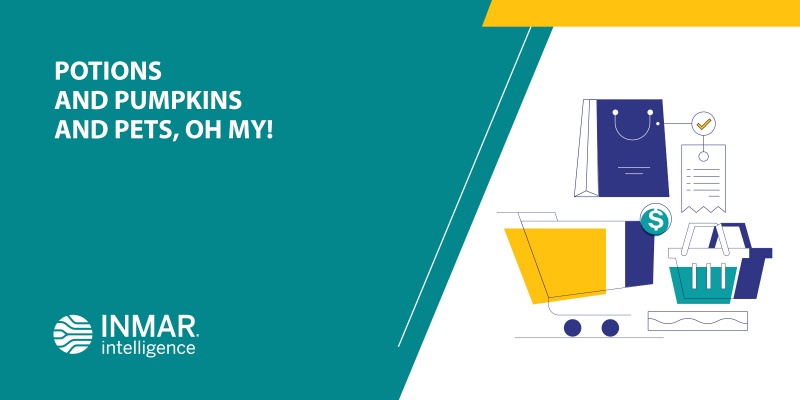 From puppy cakes to feline fashion, there is no denying that pet pampering is at an all time high. With fall nearing, pet parents are already seeking to incorporate their furry friends into their Halloween festivities, as Pinterest cites searches for "Pet Fashion" are up 199%. According to the National Retail Federation, consumers spent $490M on pet costumes in 2019, doubling the amount spent in 2010. Utilizing Inmar's data and insights tools, we found that browsing activity for Halloween costumes and decor -- including pet costumes -- peaked the second week of September, as shoppers made their initial Halloween purchases. 
Whether matching costumes with their pets, sporting a dynamic duo look or letting their pets steal the costume spotlight, this Halloween will be a combined human and pet effort. With consumers already planning for Halloween, we identified five costume trends that will inspire you to deck your pup out in some spooktacular garb. 
UPS Dog
During months of self-isolation and social distancing, online shopping has become commonplace for consumers. For some of us, a friendly wave from the UPS delivery person dropping off our packages has become a regular part of our day-to-day interactions. Turn your pet into this helpful hero with this cute UPS dog costume. 
Out of this Orbit Pet
As Halloween approaches, consumers may be looking to leave behind the craziness of 2020 in pursuit of an out-of-this-world experience. Send your pooch over the moon in galaxy, NASA or alien-themed pet costumes. 
+1049% spike in post volume for conversations concerning SpaceX the week of 5/24
21% increase in Pinterest searches for NASA logos 
Pumpkin Pup
According to our prescriptiveIQ™ insights platform, conversations surrounding "Halloween pet costumes" frequently mention pumpkins. Indeed, nothing says Halloween like a bright orange pumpkin. Your pup can embrace the magic of the season with this easy and classic costume look. 
Tiger Ki(tten)
After many of us binge-watched the bizarre and outlandish Netflix series, "Tiger King," all the cool cats and kittens will be eager to pull off their best Joe Exotic and Carole Baskin impressions. Help your pet embrace their 'big cat' look with this tiger costume. 
Work-From-Home Pet
Pets will remain valuable co-workers as many consumers continue working from home. Whether bringing us daily cheer, offering the perfect snuggle or providing a sweet distraction during Zoom conference calls, your pet will be dressed to the nines in this business suit. 
*Browsing signals are pulled from week of August 5-October 28, 2019 across the CoEx data network