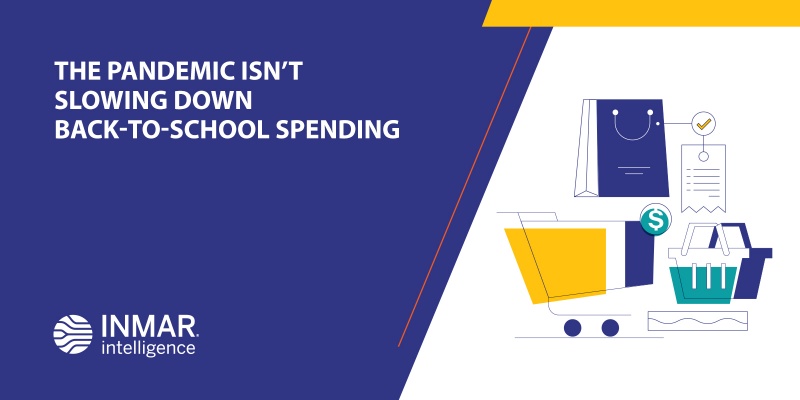 This year, back-to-school spending is expected to grow 16% year-over-year up to $32.5 billion dollars. To help marketers better understand the impact that COVID-19 and the Delta variant might have on consumer purchase decisions, we surveyed 1,000 shoppers who have already purchased — or are planning to purchase — back-to-school items this year. 
Are back-to-school purchases being delayed?
The back-to-school shopping period has remained pretty consistent over the years. In 2020, we did see shoppers start to make purchases a bit later (11% made purchases in September 2020). And even though the uncertainty of 2020 has carried into the 2021 school year, 71% of consumers have already bought school supplies for the upcoming school year.  Of the shoppers who have yet to make their back-to-school purchases, 60% plan to start shopping within the next two weeks. 
Additionally, as it relates to COVID-19 and the Delta variant making an impact on when they purchase, almost half of shoppers (47%) plan to shop as they normally do. This shows that many shoppers are optimistic about a more normal return to school in the fall. 
One of the main reasons back-to-school shopping timelines are so steady is because many items on shopper's lists aren't necessarily seasonal. If they buy too many colored pencils or notebooks at the start of the school year, those supplies can always be used later in the year by the student — or donated to teachers for classroom use. 
What purchases have back-to-school shoppers already made, and what are they waiting to buy?
Back-to-school budgets aren't decreasing this year with 72% of shoppers planning to spend the same amount or more on school items. The top items that have already been purchased include backpacks (65%), notebooks (81%), folders (62%), writing supplies (77%), glue sticks (48%), lunchboxes (39%), shoes (59%), and clothes (61%). 
Interestingly, in our consumer survey, we found the top three items shoppers are waiting to purchase closely align with the top items already purchased: backpacks (35%), notebooks (35%), shoes (36%), and clothes (34%). This could be due to those who plan to purchase but just have not done so yet. 
Are shoppers making back-to-school purchases online or in-store?
This school year, new shopping habits have formed and online shopping has become a mainstay in consumers' lives. More consumers are making purchases online — or are planning a hybrid shopping approach and hitting up both physical retail locations. 34% plan to shop in-store, 22% plan to shop online, and 44% plan to shop both. 
In-store shopping still remains popular for items like groceries (74% plan to shop in-store) and cleaning supplies (66% plan to shop in-store), but back-to-school tech shoppers are looking for products online (49% plan to purchase online-only). 
The new school year is a time for students to take on new responsibilities, and for families to create new routines. Back-to-school shoppers will be looking for brands that will seamlessly fit into their daily routines, and make their lives easier. To connect with these consumers, marketers must continue to be agile in their marketing planning and messaging strategies.