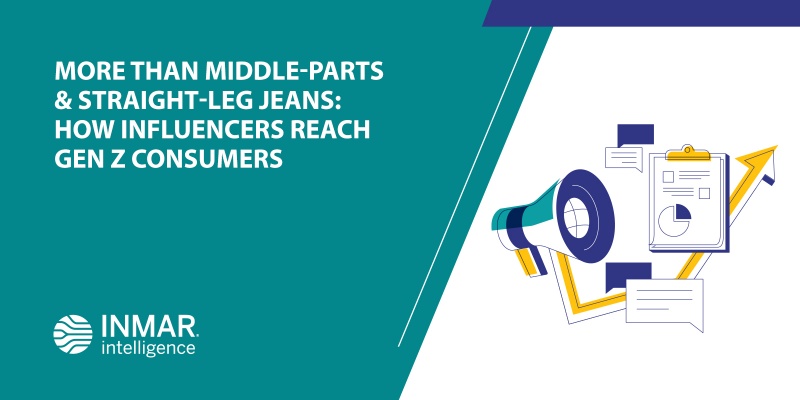 Meet Gen Z, the age group you've definitely heard of but might struggle to reach in your marketing campaigns. Those born between 1997 and 2012/15 represent Gen Z, the newest generation NOT to be confused with millennials. According to Kasasa, this age group accounts for nearly 68 million in the U.S. With an income projected to hit $33 trillion by 2030 — more than a quarter of all global income — Gen Zers will garner significant buying power that marketers can't ignore. To connect with these consumers, marketers can strategically leverage influencers to engage Gen Z consumers in a meaningful, authentic way.
Marketers must utilize an authentic approach to reach Gen Z consumers
Gen Zers prefer brands that are authentic, with 82% saying they trust a company more if it uses images of real customers in its advertising, while 72% said they're more likely to buy from a company that contributes to social causes. Product quality, positive ratings and reviews and customer service are the top three characteristics that establish trust in a brand among Gen Zers"
     -Robert Williams, Marketing Dive
Gen Zers aren't going to be satisfied by the cut-and-dry online shopping experience that rushes consumers through the sales funnel. They care about connections and community, and they don't want to feel pressured to make a purchase. Influencers provide an authentic gateway for brands to encourage and inspire purchase without the pressure of a used car salesperson. In a recent consumer study, Inmar found that 96% of Gen Z shoppers turn to influencers for product inspiration, new usage occasions, recipe inspiration and more.
Make purchasing simple for shoppers
While Gen Z shoppers don't want to be pressured to purchase, they still want shopping to be simple. They have grown up with advanced technology right at their fingertips — 58% of Gen Z shoppers aren't without internet access for more than four hours. Undoubtedly, this generation is comfortable with technology and navigating through online platforms. eMarketer explains that approximately 62% of 14-to-17-year-olds became digital buyers in 2020. So with 78% of Gen Z shoppers making a purchase based on an influencer's recommendation, it's vital that marketers establish a connection between influencer content and commerce. Including elements like Instagram swipe-ups, shoppable content, or including purchase links in an influencer's bio help capture valuable dollars from these shoppers. 
Use data to better reach Gen Z shoppers and address their needs
Understanding your target audience is vital to the success of any marketing campaign. Using an insights platform like PrescriptiveIQ™, can help answer questions like: "How are shoppers talking about my product on social?", "How are shoppers talking about my brand versus a competitor?" or "When are shoppers purchasing my product?" 
For example, we worked with a beauty brand who wanted to connect with Gen Z makeup enthusiasts. Our research revealed that during the pandemic, many makeup trends shifted: with mask-wearing mandated by law and lipstick sales at an all-time low, consumers turned their focus on beauty tools — specifically mascara — for playing up their eye makeup and mastering the "smize:" 
49% of the 88,000+ conversations specifically mentioning mascara were from Gen Z. 
Females — discussing what they were looking for in mascara — frequently mentioned mascaras that lengthened, volumized, and were waterproof.
The male voice — representing 20% of the conversation — mentioned "false lash", "volume", and "extra" when discussing must-have features for mascara.
TikTok is a booming channel for Gen Z consumers. This year in the US, TikTok will have 37.3 million Gen Z users (born between 1997 and 2012) who access their accounts at least once per month.
Those insights were used to inform influencer selection, content strategy, and also the featured products in the campaign leading to over 1 million influencer content views and over 2 million dollars of makeup products added to shopper's carts.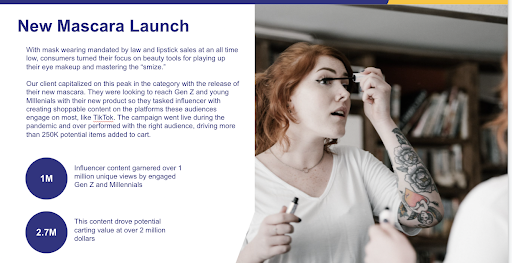 By infusing authentic storytelling into their social channels, influencers generate trust among their community of followers and create the personalized approach consumers crave. And, utilizing relevant influencers for your Gen Z audience creates an intimate shopping experience akin to shopping with your friends.
To learn more about how Inmar can help your brand reach Gen Z shoppers, contact us or download our quick guide today!