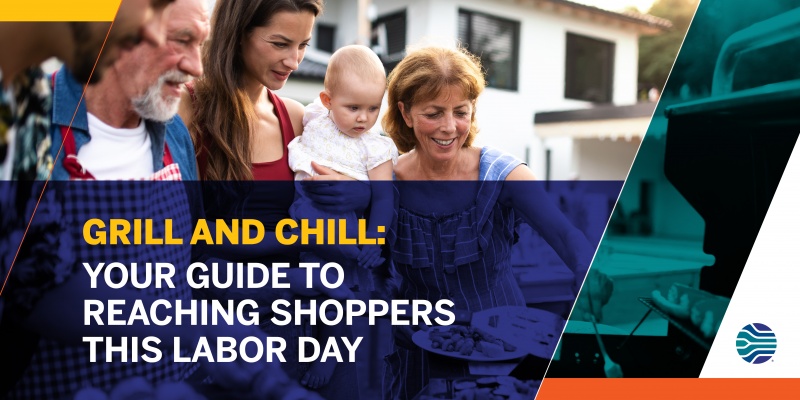 Labor Day will be here before you know it. Excited to return to family cookouts and friendly gatherings, consumers will be buying in a big way to prepare for the occasion. At the same time, deals and savings will be more important to shoppers than ever this year. How do you meet both needs at once?
The answer is simple: meet the shopper in the middle by using data to identify the perfect offer, the perfect timing, and the perfect messaging. By implementing data-supported strategies and taking advantage of the latest industry trends, we're able to eliminate roadblocks along the consumer path to purchase. 
Unique purchase decisions and growing product categories will make Labor Day 2021 extra special. Use the insights and data in this trends guide to formulate your strategy for the year's second-biggest grilling occasion. 
Savings Are Supreme
The 2021 shopper is largely more frugal than in previous years as a result of 2020's widespread financial uncertainty. With the prices of groceries and household essentials increasing on a regular basis, shopping for holiday gatherings may look a bit different this year. In fact, almost 50 percent of shoppers say that they plan to spend less on Labor Day than they did last year. 
To ease the strain on their budgets, Labor Day shoppers will be looking for deals, sales, and specials as they plan for cookouts and picnics. Connecting with these shoppers requires insightful placement of messaging, digitally-activated deals, and other careful tactics.
Food Trends Fight It Out
While everyone is familiar with the standard Labor Day staples like hamburgers, hot dogs, chicken, and corn on the cob, new trends are starting to gain ground. Data sourced through Inmar's ShopperSyncTM platform shows that in the weeks leading up to Labor Day, alternatives like plant-based meats and gluten-free foods either match or exceed the browsing numbers of sausage, poultry, and beef. 
As the market for meat alternatives and foods in specialty categories increases alongside growing consumer interest in health and wellness, opportunities to introduce unique options are more abundant than ever. Though the staples won't be dethroned any time soon, brands and retailers should take advantage of the fact that grocery dollars are being spread amongst a larger variety of products.
A Laborless Labor Day
Plenty of additional data and insights are available in our new Labor Day Trends Guide, which has been purpose-built to enhance your marketing plan this Fall. Use this guide to reach shoppers at the right place and time, activate meaningful offers and incentives, and identify growth opportunities in a number of categories. 
We've gone through the effort of compiling this Guide to reduce your workload as we prepare for the holiday that celebrates...well, work. Download our Labor Day Trends Guide today for all of the key figures that will inform your seasonal strategy
The Labor Day shopper will be making some unique decisions this year. Look through our Trends Guide to discover exactly how they'll be browsing, what they're looking for, and how to align with their preferences. With these data-supported tools and curated insights, work is no longer part of the equation. 
Get ready for a labor-free Labor Day. Download a free copy of our 2021 Labor Day Trends Guide today.