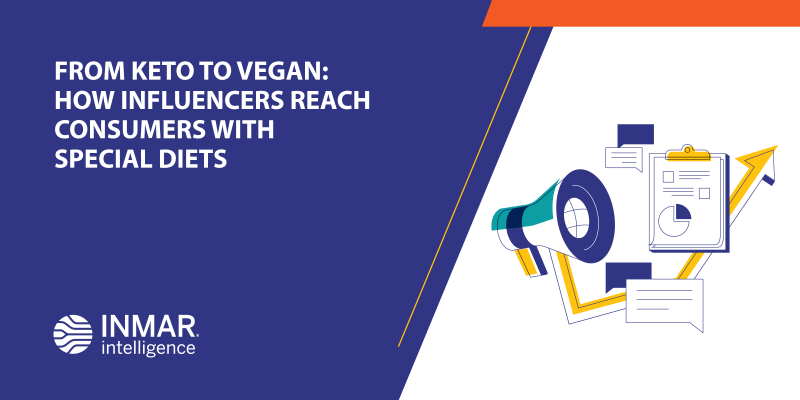 It is no shock that the COVID-19 pandemic impacted consumer behavior on several dimensions, ranging from how we socialize to what we eat. According to the International Food Information Council (IFIC)'s 2020 Food and Health Survey, more than 8 in 10 Americans say they experienced change to their habits surrounding eating or food preparation. While some Americans turned towards comfort food to cope, others reactivated their health goals given more time at home to cook.
In pursuit of improving their health and/or conforming to dietary needs, many people increased their consumption of protein from plant sources and plant-based meat and dairy alternatives. Consumer behavior research cites 41% of dieters increased consumption of protein from plant sources and 28% eat more plant-based alternatives. As more consumers sought out these specific food products, brands simultaneously emerged to meet consumer demands. 
By leveraging influencer marketing, brands can reach consumers with dietary needs
Raising awareness, generating product trials, and driving sales remain top of mind for health-focused brands within the food landscape. Besides offering high quality products, brands must also evaluate their marketing strategies to bridge the gap between themselves and consumers. Here is where influencer marketing can step in. Through implementing influencer campaigns, brands can reach key health-conscious shoppers and ultimately meet their KPIs. 
According to a recent study, vegetarians most frequently shop at Vons, Publix Super Markets, Sprouts Farmers Market, Kroger, and Whole Foods. By staffing influencers who already shop at these big box retailers, brands can effectively target ideal customers with dietary specifications. With DC, Oregon, Maine, and NY home to the largest population of plant-based eaters, brands can also implement geographic targeting within their influencer campaign. Influencers, creating organic and powerful campaigns, can highlight the health benefits of the products within your brand's portfolio, leading to measurable results. 
We use data to design smarter influencer campaigns 
Finding and securing the right creators represents a crucial component of influencer marketing. Using FitScore™, our proprietary influencer selection algorithm,  we source qualified, legitimate, and brand-safe talent from our community of influencers to create authentic connections shoppers will trust. Comparing metrics such as brand fit, geographic and demographic fit, performance on prior campaigns, reach, and audience traits, Inmar effectively vets candidates and predicts performance using proven algorithms. 
Aside from connecting influencers to the right voice in our influencer community, we also utilize point of sale and social listening data to aggregate consumer insights relevant for brands. For example, our PrescriptiveIQ™ insights platform revealed these key insights relevant for targeting consumers with dietary needs: 
Sales for cheese and milk alternatives saw a slight spike in March, when many categories saw early pandemic stock-ups;
61% of individuals mentioning vegan and plant-based products in 2020 were between the ages of 25 and 44; and 
Sales for dairy/meat alternatives track directionally with the volume of social conversations about plant-based eggs as both sales and conversations were at their highest in the spring (March-May), and both saw a consistent indexed volume of 60-70 through the late fall & early winter months (Oct-Dec).
These insights, among others, have enabled Inmar Intelligence to partner brands with leading influencers within our network that develop compelling campaigns driving data-backed results. For brands or retailers interested in incorporating influencer campaigns into their marketing strategy, contact Inmar Intelligence today.