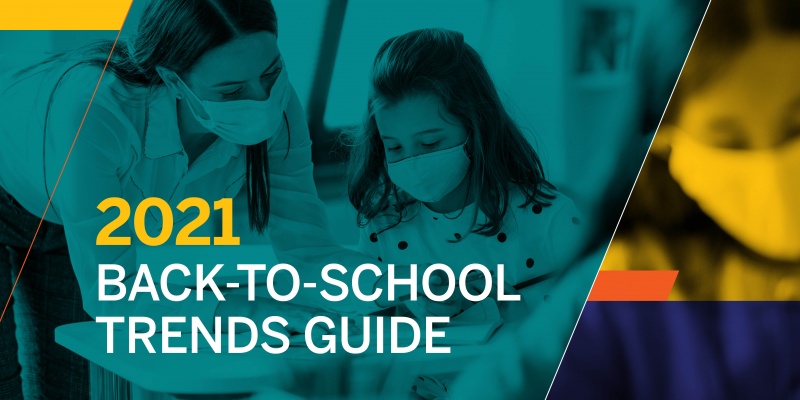 Back-To-School season offers some of the largest opportunities to capitalize on consumer attention in any given year. In 2021, changes to school attendance, shopping norms, and general consumer behavior challenge the way businesses approach this momentous shopping occasion. 
By implementing data-supported strategies and taking advantage of the latest industry trends, we're able to eliminate roadblocks along the consumer path to purchase. Inmar's Back-To-School Trends Guide provides insights to attract shoppers you might consider out of reach. 
The same key consumer personas — Parents, Teachers, and Students — will be hitting stores this year, but their methods and motivations will be a little different this time around. Are you ready to capture their attention this Back-To-School season?
What's In Store for Out-Of-Store Shopping
Over 30% of shoppers plan to shop exclusively online this year. When it comes to tech essentials, this number rises to almost 50%. As social shopping and influencer recommendations motivate homebound customers to purchase, brands and retailers have begun investing in social commerce, mobile commerce, and e-commerce to create meaningful, personalized customer experiences.
Play To the Savers
As the world continues to deal with economic uncertainty related to the COVID-19 pandemic, shoppers are allowing financial considerations to dictate shopping behaviors. 38% of parents are concerned about their ability to afford back-to-school essentials, and the same percentage of college students fear not being able to cover school expenses for the semester. Over 66% of customers will be looking for, and relying on, deals, promotions, rebates, and coupons this shopping season. Build strong messaging around any special opportunities to increase purchase comfort.
Take Plating Off Their Plate
Meal planning and schedule management have always been some of the most significant challenges for parents and students. The shift to home-based virtual classes added to the stress, with parents being forced to plan extra meals for kids who would otherwise have eaten at school. 41.7% of shoppers struggle with finding healthy options, and 42.5% identify planning, making, and packing lunches or snacks for school as the biggest challenge during the season. Another 42.3% peg after-school dinners as a major concern. Simplifying the process with pre-made meals, bundled basket savings, and ubiquitous recipes or prep tips will win brownie points with these shoppers.  
---
These are just a few samples of the numerous key characteristics that define the 2021 Back-To-School shopper. Study our full Trends Guide well, because there just might be a quiz at the end! With these data-supported tools and curated insights, there's no reason for you not to rule the playground this fall. 
Back-To-School is in the bag. Download a free copy of our 2021 Back-To-School Trends Guide today.