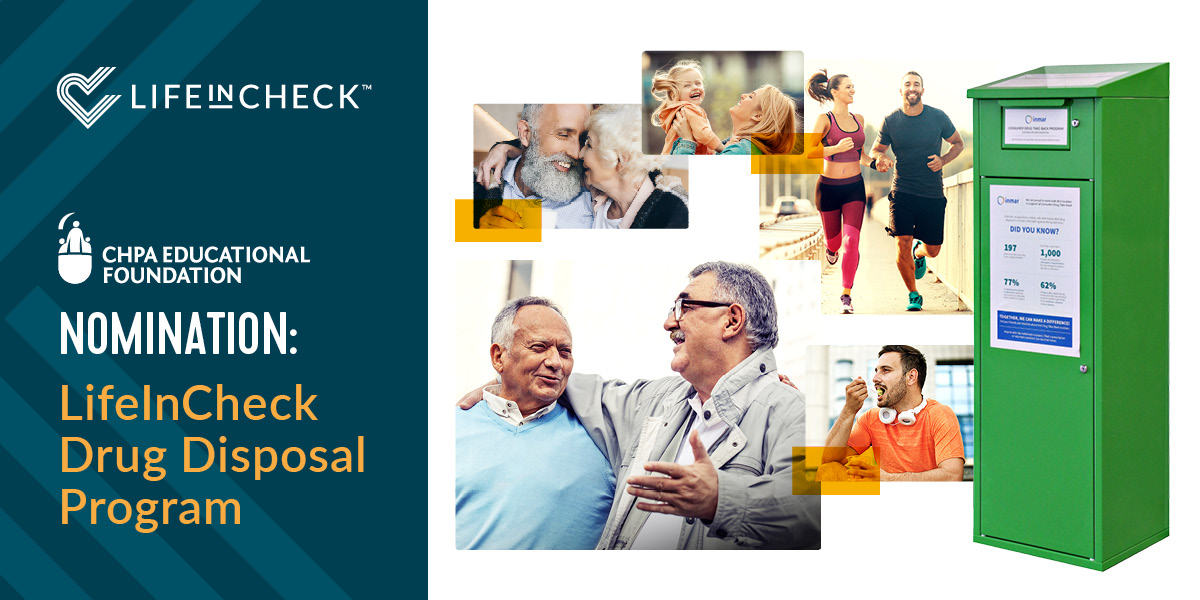 Sometimes it's okay to be judged by the company you keep and sometimes there's victory in simply competing.
And that was exactly the case for Inmar when we didn't receive the CHPA Educational Foundation's 2018 Industry Leadership Award for Advancing Self-Care at the group's Annual Gala held November 13 in New York City.
That night, Inmar was among a prestigious group of nominees including Bayer Consumer Health and GlaxoSmithKline vying for this award from the educational arm of the Consumer Healthcare Products Association (CHPA) that recognizes "educational efforts that have created a positive impact on the consumer healthcare industry and directly advanced responsible self-care for U.S. consumers." And, while Bayer was chosen for the award, it was truly a "win" for our LifeInCheck Drug Disposal Program to be considered alongside their efforts and those of the other nominees.
[embed]https://inmar.wistia.com/medias/18uvbzo44x[/embed]
While it's no secret to professionals in the consumer healthcare industry that the diversion and misuse of medications stored at home is helping fuel the nation's growing substance abuse problem, the reality is that consumers do not fully appreciate the risk presented by the extended retention (and improper disposal) of unneeded drugs. To address this lack of understanding among consumers and enable them to actively and easily dispose of surplus medications, Inmar launched the LifeInCheck Drug Disposal Program in August of 2017.
The program provides hospital and retail pharmacies and law enforcement agencies with DEA-compliant prescription drug take-back receptacles that patients and visitors can use on site to simply and securely dispose of surplus and expired medications. Inmar then enables tracked shipment of the collected medications to our highly secure, strictly controlled processing center in Texas and on through to incineration in accordance with all applicable regulations.
And as satisfying as it was to be considered for the Leadership award, the real satisfaction comes from knowing the difference that the LifeInCheck Drug Disposal Program is making in the battle against prescription drug abuse — and, in particular, the misuse and abuse of prescription opioids. Since its launch a little more than a year ago, the Program has expanded to 38 states — successfully motivating consumers across the country to actively participate in this fight and has collected -- and enabled destruction of -- more than 12 tons of unneeded medication.
To enable participation in the Program and help consumers better protect themselves, their families and their communities against the threat posed by the diversion of prescription medications, Inmar has created an online tool that visitors can use to find the nearest LifeInCheck Drug Disposal Program location. Disposal locations can be found here.
There is much more work to do to address the problem of prescription drug abuse and Inmar is committed to maintaining critical awareness of this public health emergency and expanding daily drug take-back. However, with the help of Program subscribers and the active engagement of their patients and shoppers we are making real progress towards this goal. And, in doing so, we are all saving lives. That, of course, is the best "win" of all.