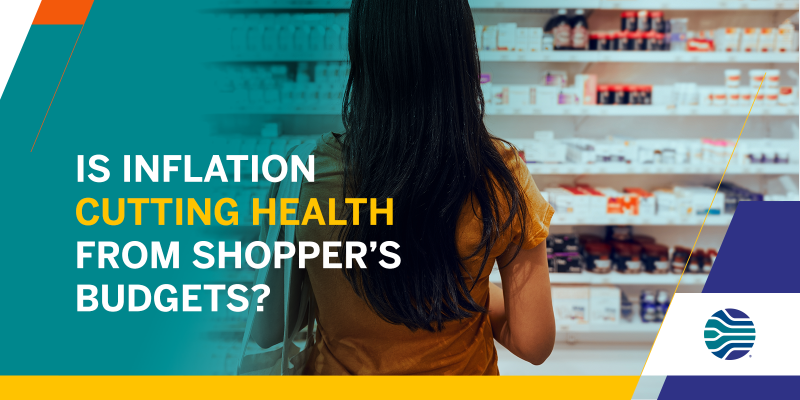 As COVID-19 concerns decrease, a separate issue is on the rise — and having its own (unexpected) impact on healthcare. Inflation.
We're experiencing the highest rate of inflation in over 30 years, and consumers across all markets are changing their shopping behaviors to offset it. Including medical costs. A recent Inmar Intelligence survey shows over 75 percent of shoppers are concerned about their ability to afford prescription drugs. And they have cause.
Chronic will be costly.
Consumers with long-term prescription needs are likely to be among the most affected by price hikes. Of the 1,000 consumers surveyed, 64 percent said they or a family member had a chronic condition requiring regular medication — with 68 percent reporting they take at least one prescription drug a day.
People are sacrificing their bodies for their bank accounts.
54 percent of shoppers admitted they had to stop (or seek alternative) medical treatment because of cost. Others are penny pinching their weekly food budget. Perhaps most concerning of all, 20 percent reported they skipped or cut their pills in half to make them last longer.
Those feeling the squeeze are looking to these solutions:
Generic labels — 26 percent of shoppers reported their monthly pharmacy bill was over $100, so many are switching to less expensive options. 65 percent said they're now opting for generic vs. name brands.
Discounts — As prices go up, so does coupon use. 68 percent of respondents actively search for discounts online, at the pharmacy, or belong to a prescription discount program. 
High prices — Over 70 percent of respondents said prescription prices are too high and should be addressed by the government.
Cost shouldn't impact health.
These solutions may help, but will they be enough? The more prices rise, the thinner consumers' finances will become. Shoppers who admitted resorting to more extreme budgeting solutions can attest to that. Hopefully our survey results shed some light on this growing issue — one needing a solution beyond individual budgeting.