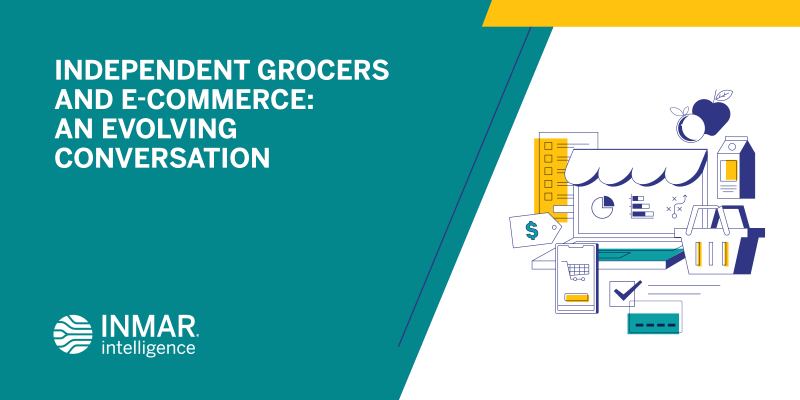 Inmar was recently asked to participate in a Grocer Pod podcast with David Smith, CEO of Associated Wholesale Grocers (AWG), the nation's largest cooperative food wholesaler to independently-owned supermarkets. AWG has eight full-line wholesale divisions serving more than 1,100 member companies at more than 3,000 locations across 28 states. The podcast conversation between Craig Rosenblum, Inmar's Vice President, Enterprise Retail and David can be found below.
Here's more on independent grocers, e-commerce and the changing industry.
Independent grocers need to capitalize on the momentum they've gained as a result of outperforming their chain competitors during the COVID-19 crisis.
The grocery industry's digital transformation has seriously accelerated and independent grocery retailers need to take appropriate action. They need to make sure they either put an e-commerce solution in place or enhance their current online program to meet the needs of new online grocery shoppers as well as those of seasoned e-commerce users. The monetary gains that grocery retailers have seen should be reinvested in innovation and there's no shortage of data around shopper behavior that supports this strategy:
41% of in-store shoppers have downloaded and/or used a grocery retailer's mobile app in Q1 2020 vs 22% in Q1 2019.
362% increase in online conversations among consumers discussing grocery delivery and pick-up.
31% of U.S. households used an online grocery delivery or pickup service in April of this year compared to 13% in April of 2019.
44% of shoppers expect their frequency of purchasing groceries online to increase over the next three months while 48% expect it to stay the same.
It will be very important for retailers to put strategies in place to retain new customers gained as a result of COVID-19. Brand and retailer loyalty went out the window as shoppers bought whatever they could -- wherever they could find it -- to fulfill their family's needs. 
McKinsey reported 13% of shoppers changed their regular store due to the pandemic. This is a huge shift and an incredible opportunity for independent grocers. With their community relationships, independent grocers are uniquely positioned to capture and retain "in transit" shoppers. Maximizing and expanding personalization will be essential to satisfying and keeping these new customers.
With the nation starting to reopen in the face of current economic conditions, there are three things independent grocers need to focus on.                
1. Communication, communication, communication!
Understanding shoppers and meeting their needs means providing relevant communications. First-time digital shoppers need education. Senior shoppers have unique needs. Personalized communications and personalized offers, along with continuous updates, are critical to maintaining customer relationships while shoppers weather this pandemic and economic fallout. 
It is all about strengthening customer relationships. A recent Edelman survey reported 71% of respondents felt that during this time that "if they perceive that a brand is putting profit over people, they will lose trust in that brand forever." The messages that independents put out over the coming months will determine the perceptions of customers and communities for a long time to come.
2. Retailers must neutralize any price and price image vulnerabilities in order to win on other components of the shopper value equation, attract store visits and drive spending.
Concurrently enhancing price-value image and neutralizing price image vulnerabilities requires more than just ensuring competitive everyday shelf prices; it requires that retailers establish and maintain a strong position across each of the Six Dimensions of Price Image. This recession will see "smart" retailers focusing on strengthening their offerings in each of these dimensions.     
3. Shoppers will be looking for retailers to help them make ends meet.
Coupon redemption increases during a recession and that was certainly the case during the Great Recession. There has already been a 52% year-over-year increase in digital coupon use between March 2019 and March 2020.
Independent grocers need to practice the following to turn first-time online grocery shoppers into loyal customers:
Actively communicating with shoppers on issues of safety and store access.
Enabling an enhanced online shopping experience, providing expanded delivery and pick-up options and setting special hours.
Demonstrating a shopper-first mindset that retailer-loyalists will continue to expect long after the current crisis has passed. 
Optimizing the shopping experience and creating a genuine connection with shoppers have always been important; going forward, they'll be critical. 
Understanding the shopper's mindset, financial situation and new purchase behaviors will take on even greater importance as the nation moves deeper into the recession. Independent grocers that are sensitive to the changes taking place and respond strategically will be able to successfully contend with what's immediately ahead and will be better positioned to prosper in the post-pandemic future.