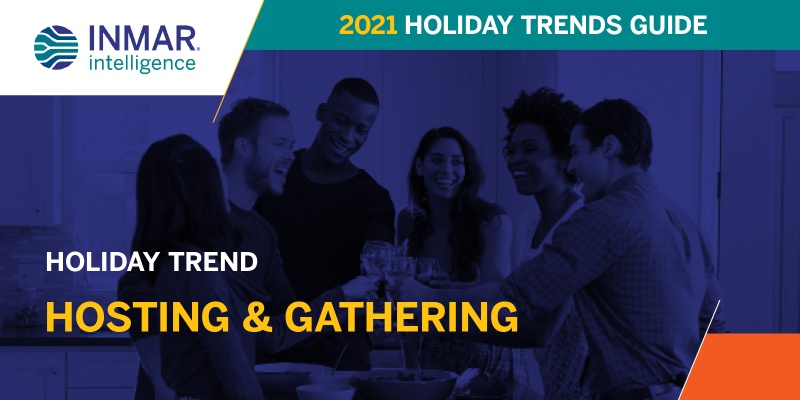 It's only a matter of time before the radio stations queue up the holiday jingles and stores start filling displays with festive winter decor. Though we may still be months away from the holiday festivities, it's never too early to construct a data-driven approach that makes the best use of holiday consumer trends. 
While planning is recommended, making actual predictions about how people will approach this year's winter holidays may be difficult due to the continued effects of the pandemic. To combat this, we looked at some of the more evergreen, generalized aspects of seasonal gathering — with insights that can apply to any eventuality. With these fundamentals in mind, you'll have everything you need to make spirits a little brighter this year. 
An Insider Look at the Invites
Whether due to circumstance or preference, this year's gatherings may look more similar to those of 2020 than, say, the people-packed parties of years prior. Of those who will choose to spend time with others, many will combine groups while some will celebrate with family and friends separately.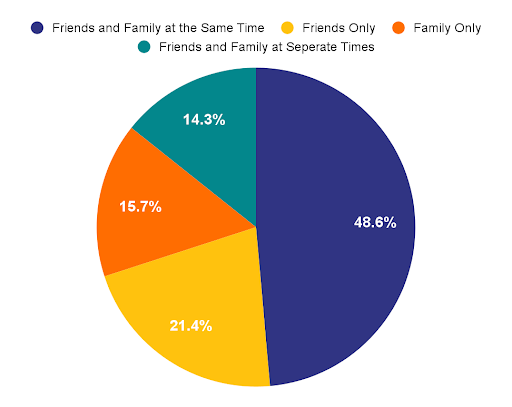 Most social media conversations about hosting and gathering occur in mid-October as Halloween approaches. These discussions pick up in the weeks ahead of Thanksgiving and then peak in mid-December before falling after Christmas. Most hosting conversations happen on Pinterest, where recipe sharing and decor inspiration are common, while gathering discussions primarily take place on Twitter.
How to Land The List
Of course, a holiday gathering is not complete without a delectable collection of food and drink. Almost 30% of guests consider their presence gift enough and arrive empty-handed, while the remaining attendees bring:
74.6%  Dessert or a sweet treat
63%  Snack, starter, or appetizer
60%  Alcoholic beverage
55.9%  Non-alcoholic beverage
55.7%  Side dish
43.7%  Main dish
Browsing data for products in numerous event-related categories grows with the season approaching. For example, searches for "wreaths" — an obvious selection, we know — increased 2.46x in December alone. The more interesting categories include:
Pet clothing | 1.30x in November
Food storage | 1.13x in November
Spirits & Liquor | 1.19x in October and 1.09x in November
Paper napkins | 2.62x in November and 1.42x in December
Tending to Holiday Spending
While everyone approaches holiday parties differently, there's one consistent component — wallets opening and dollars departing. Food, drinks, decorations, and other necessities don't come cheap, and shoppers are willing to pay to ensure that events are stocked with all the essentials. 
28.7% of people plan to spend between $100 and $200 on holiday gatherings.
16.0% plan to spend between $200 and $300
10.8% plan to spend between $300 and $400
5.1% plan to spend between $400 and $500
5.4% plan to spend between $500 and $600
1.7% plan to spend between $600 and $700
Over 10% of shoppers are willing to part with $800 or more, and 3.6% of people plan to spend over $1,000 on these events. Don't you want a piece of that holiday pie?
The Better the Prep, the Better the Party
Data can — and should — inform better campaigns year-round, but even more so during the holiday season, when buying behavior reaches its annual apex. Insights into spending habits, product discovery, social media conversation topics, and more combine to create unbeatable strategies. And with over 60% of shoppers looking to spend up to $500 on holiday events, an unbeatable strategy is undoubtedly on everyone's wishlist. 
Our complete 2021 Holiday Trends Guide contains a more in-depth look into hosting and gathering. With this guide, you'll also become familiar with where and how shopping will be taking place, how much will be spent on gifts, the coolest decor crazes, the most popular dishes, and more! Download your copy now and give yourself a holiday head-start!