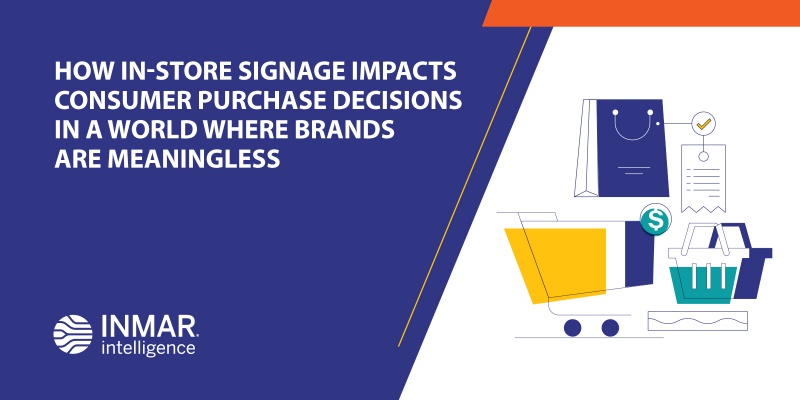 "Do shoppers care about my brand?" It's a question that marketers are forced to constantly grapple with. Over 30,000 new CPG products are launched every year. And consumers say that 75 percent of brands could disappear overnight and they wouldn't care. Getting your brand noticed is even harder as consumer attention is spread divided across multiple touchpoints.
So, how do you get your items into a shopper's cart? It's simple. You have to influence purchase decisions at the shelf. 
CONSUMERS SHOPPING LISTS AREN'T BRANDED
When building out their shopping lists, the majority of consumers aren't adding brands to the list. They are looking for "lunch meat", "frozen pizza", or "laundry detergent". And, yes, they might have a brand they are loyal to, but 75 percent of consumers altered their brand preference over this past year.
To get your product into a shopper's carts you'll need to create an "Aha-moment" for purchase inspiration. Inmar found that 80% of consumers are actively looking for deals when shopping in-store. Including on-shelf callouts like offers, a trending recipe to try, or how your product helps solve a shopper dilemma can encourage shoppers to pick your brand over a competitors. 
Shoppers are picking a brand in the store - when the shopper, your product and your in-store ad are in the same place at the same time. Reaching shoppers with the right message at the key decision-making point is crucial. 
PURCHASE DECISIONS ARE BEING MADE IN-STORE 
Not only are shoppers starting their trips without a particular brand in mind, but their in-store experience directly impacts their purchase decisions. A study of over 3,000 shoppers found that 82 percent of their purchase decisions were made while in a store, 62 percent made an impulse buy while shopping, and 16 percent of their unplanned purchases are driven by in-store promotions.
You can create a better shopping experience with the right in-store messaging strategy. Often consumers are left confused by the number of choices within a certain category, and can leave the store frustrated and empty-handed. You can create an at-shelf product assistant using technology like chatbots or SMS messaging. Shoppers can chat with the AI-assistant, answer questions about their particular needs, and then be guided to the perfect product. Brands can take that a step further and encourage engaged shoppers to opt-in for future communication and special promotions. 
IN-STORE SIGNAGE IMPACTS PURCHASE
The secret to developing a winning in-store marketing strategy (really any marketing strategy) is to start with data. You need to know: how do customers navigate the store?, How do they shop a particular category and the brand?, When and where will in-store advertising make the most impact?, and what trends are influencing shopper behavior? 
That data can then be used to inform the placement of your signage, the messaging and design that will most compel shoppers to purchase, geographical behavior differences, and the ideal timing for your ad to be live in-stores. Using data to focus on what customers actually want will not only increase the success of your campaign, but it will also lead to greater customer satisfaction. 
To learn more about how you can optimize your in-store media, and how Inmar is using data to make your campaigns smarter, contact us today!