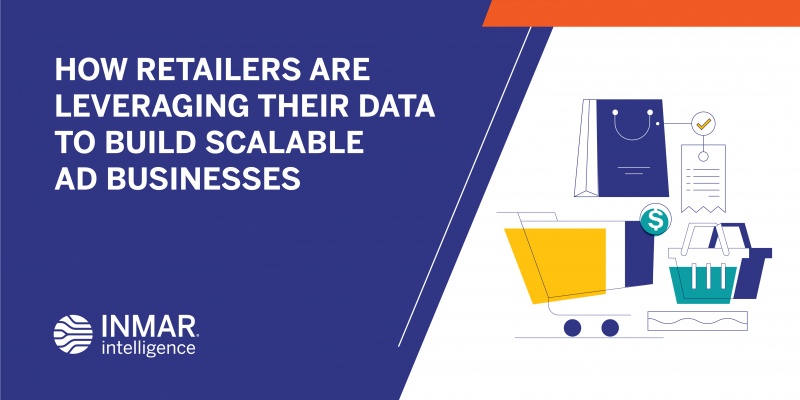 Retailers are in the digital ad business.
Amazon's advertising division generated $10B in 2018, making it the 3rd largest digital ad company, behind Google and Facebook. Walmart and Target's ad offerings have been in market for some time now, with estimated earnings in the 100s of millions. In the last 18-24 months, grocers such as Albertsons and Kroger have launched their units to grab higher share of CPG budgets. Today, if you are a retailer, chances are that you have a digital ad offering or are close to launching one.
Most retailers launch their ad offerings in the form of onsite ad placements, such as product placements, standard display, video ad, etc. But as the opportunity grows, it is becoming evident that onsite inventory is limited. So retailers are turning to monetizing their 1st party data to scale their ad business. Coupled with programmatic buying technology, a single cookie ID generated by a page view on a retailer's site can generate 100s of ad opportunities per week against that ID within exchange environments.  
Technology needed
The technology required to execute this type of advertising can be distilled into 3 to 4 essential components:
Data Management: Technology that can ingest, normalize and organize 1st party data into addressable ad segments and prepare it for programmatic targeting.
Identity Resolution, or "Matching Technology": Technology helps make "analog" data (e.g. loyalty, POS, etc.) addressable digitally by matching offline user data with anonymous online cookies.  As an example, this would allow retailers to create ad segments from users that have made an in-store purchase.
Programmatic Media Buying: Technology that can match data segments to display ad inventory, bid, and purchase impressions using an automated and real-time process.
Reporting & Attribution: Tools that can directly attribute retail actions, such as visits or sales, to ad impressions.
Click here to see how we integrate all of these technologies in one powerful solution!
While these technologies are not new, the majority of them exist either as individual point solutions or in a single solution that was not designed to support scalable retail advertising businesses. This has forced many retailers to adopt alternative, suboptimal approaches:
Approach #1: Repurpose existing retargeting solution
Rather than onboarding a new technology, retailers will often defer to re-purposing their retargeting solution to support digital co-op campaigns. This approach limits scale, results in high opportunity costs, and puts strain on internal resources.
Retargeting solutions have a narrow focus. They are designed to increase the sell-through of customers that abandoned the shopping process using a performance-based payment model. This causes the technology to only focus on the portion of customers that are most likely to convert, which is always tied to recency. As a result, only the most recent visitors (3 to 4 days since last visit) are the priority and the rest of the audience is not targeted. This limits a retailer's data opportunity to only a small fraction of their audience.    
In addition, their technology and service model is simply not designed to execute, optimize, measure, and service multiple individual co-op budgets and campaigns, which increases the strain on internal resources.
Approach #2: Use multi-platform approach
Retailers will create a tech stack made up of individual point solutions. For example, they will use a combination of a DMP, DSP, attribution, etc. to execute their campaigns. This approach results in decent scale, but the retailer's economic costs are higher and a fragmented workflow adds strain on resources.
Multi-platform tech stacks mean multiple contracts and multiple fee structures that are independent of one another and cannot be bundled together to negotiate better pricing.  
The opportunity costs are incurred from a number of issues:
50% of data is lost as a result of porting segments created in data management platform to a separate programmatic platform
Programmatic optimization is limited because insights are not transferred between data and buying platforms
Fragmented workflow creates friction along delivery and reporting process causing strain on internal resources when attempting to execute multiple campaigns.
There is a Better Approach.
Inmar Intelligence now offers retailers a one platform solution to seamlessly transform their data assets into a high performing, scalable ad solution to support their advertising and monetization businesses. CoEx, our award-winning software,vertically integrates the 4 technologies that are the backbone to these ad platforms.- data management, programmatic advertising, measurement – and most importantly, a second-party data marketplace, into a single solution. This approach improves scale and performance, while lowering your overall cost structure.
Interested in hearing more? Click here to get in contact with a solutions expert!