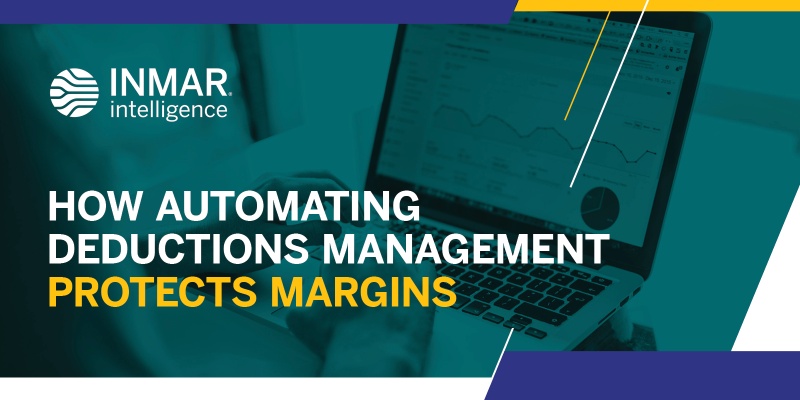 Like death and taxes, deductions are a fact of life for CPGs – and can be equally dreaded. Deductions management is often tedious and time-consuming, but this necessary task can have a major impact on profitability, cash flow and retailer relationships. Deductions account for 15-20% of brand revenue, and, when managed effectively, can drive company-wide growth.
END THE PAIN OF MANUAL PROCESSING
Deductions occur when a retailer short-pays the amount they owe to a brand. Brands invoice retailers, retailers deduct amounts for things such as damaged goods, billing or shipping errors, and pay the remainder of their bill.
For many accounts receivable teams, this is the beginning of a long process of manually extracting, organizing and analyzing thousands of deductions in multiple retailer formats. From there, AR team members are charged with recovering invalid deductions and gleaning actionable insights from preventable deductions. On average, 15-25% of deductions are invalid or preventable. This cycle of reactive-versus-proactive action wastes valuable time and talent, and stunts growth. But it doesn't have to be this way.
A SINGLE AUTOMATED DEDUCTIONS MANAGEMENT TOOL CAN REDUCE BACK-OFFICE MANUAL EFFORT BY 40-100%.
With the right tool to automate administrative work and support AR teams with higher-level management and resolution, brands can prevent margin erosion and realize growth opportunities.
At the most basic level, auto-extraction of deduction information automatically expedites front-end work and frees up AR team members for higher-value tasks. Deductions are matched with backup documents and all information is structured and readily available for AR team members. For advanced deductions management solutions, it doesn't end there.
In the case of invalid deductions, AR teams can utilize automated workflows to quickly and effectively coordinate with internal stakeholders, gather reference documents, and communicate disputes with retailers.
For valid, yet preventable deductions, AR team members can leverage improved visibility and insights to work with internal teams and identify opportunities for improvement – potentially reducing non-trade deductions by up to 20%.
In either instance, AR teams can even leverage advanced features, such as retailer scorecards, to analyze and improve individual retailer relations.
HOW AUTOMATED DEDUCTIONS MANAGEMENT WORKS
Through a simple, yet intelligent workflow, automated deductions management solutions follow these general steps and provide a single source of truth for AR teams and internal stakeholders, making it possible to manage deductions with efficiency and accuracy.
Deduction information and backup documents are auto-extracted and organized within a single system
Deductions are automatically determined to be valid or invalid
Invalid claims are prioritized to focus on high-value claims first
Dispute workflows are executed, allowing for collaboration among stakeholders
Resolutions are monitored and analytics are available to AR teams
INTRODUCING DEDUCTIONSLINK™
Built on 40 years of experience in harmonizing workflows between CPG and Retail, our new deductions management solution is a highly automated, AI-driven SaaS collaboration and payments platform. It increases profitability for CPGs by improving recovery rates for invalid deductions, helping prevent deductions and decreasing administrative work. For more information or to schedule a demo, contact solutions@inmar.com.