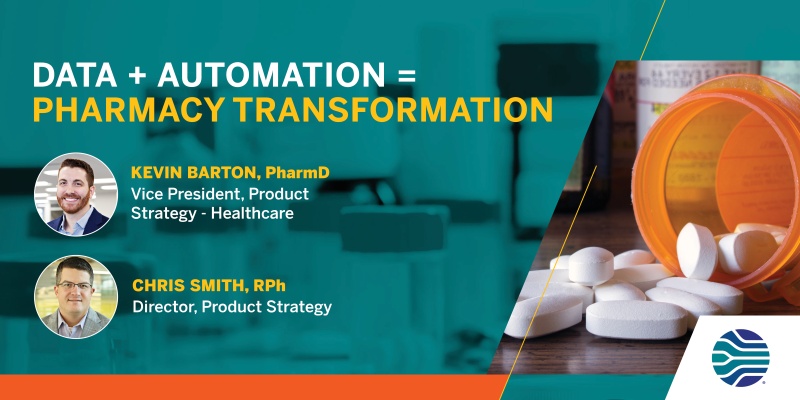 DATA + AUTOMATION = PHARMACY TRANSFORMATION 
The pharmacy industry is having a renaissance — years of exponential growth and change in both the needs of the population and the policies meant to protect them. And now, that vigor is being directed toward the development of innovations meant to handle that growth and change. Experts Chris Smith and Kevin Barton recently spoke with Drug Store News to discuss the exciting role artificial intelligence and machine learning could play in this transformation.
1. In the past few years, how has technology and/or automation benefitted the retail pharmacy arena? 
Chris Smith: Technology's been vital to pharmacy's ongoing transformation from providers of "pills in a bottle" to crucial caregivers. Inroads in central processing and central fill, advancement in patient outreach systems, and analytics have allowed pharmacy leaders to streamline operations, meet patients where they are, and make more informed business decisions. 
Kevin Barton: Enhancements in technology and automation have allowed pharmacies to provide more clinical services and improve care for customers. The pandemic gave pharmacists the spotlight, showing us what they do for their communities and the healthcare ecosystem. As growth in central fulfillment centers and automated dispensing continues, pharmacies will have more time to focus on the customer and their health. New technologies and automation will further the progress made in displaying that pharmacies can do more to better the health and well-being of customers.
2. WHAT IS NEW AND/OR EMERGING IN TERMS OF TECHNOLOGY OR AUTOMATION FOR THE RETAIL PHARMACY SPACE, AND HOW DOES IT PROMISE TO FURTHER BENEFIT THE SEGMENT?
Chris Smith: Two big events are coming to the pharmacy market in the next 15 months —  the full-scale implementation of DSCSA, immediately followed by DIR changing to point-of-sale. Solutions for both forward and reverse logistics are emerging as stakeholders across the channel recognize the need to democratize supply chain data to fill DSCSA requirements. The impact of the DIR shift to point-of-sale means pharmacy teams and their finance and accounting partners need to be in sync. Forecasting the shift to POS and understanding the actual adjudication (plus any effective rate true-ups down the road) will require the right data and communication.
Kevin Barton: With margins continuing to be tight, retail pharmacies are looking for ways to be financially efficient. More and more pharmacies are using data to better manage inventory and product flow, especially as new DSCSA requirements get closer. Historical data and trends, in combination with machine learning, ensure the right amount of the right product is ordered at the right time. And it's equally important to manage what needs to be returned. Applying inventory purchasing and dispensing data to return-policy rule engines lets pharmacies order products more efficiently and receive as much credit for their returned product as possible. Rather than continuing to comb through shelves looking for what needs to be ordered or returned, an end-to-end solution like this can proactively identify the appropriate actions to take and minimize the time spent on these tasks.
3. Any tips for drug stores in implementing the above? 
Chris Smith: If you fail, fail fast! 
Kevin Barton: Having systems that measure trends in pick-up frequency, duration of therapy, etc., are useful in keeping inventory tight while ensuring the current customer base is still being cared for. And being able to collaborate with industry experts to innovate as quickly as the industry evolves is critical to long-term success.
4. What challenges within the retail pharmacy space have yet to be addressed in terms of technology/automation?  In your view, when should stakeholders expect to see progress here?
Chris Smith: AI still has implications for the industry but is certainly not a magic bullet.  The next 3 to 5 years will see further exploration and adoption of AI-enabled products.
Kevin Barton: It's no secret labor is challenging across the pharmacy market, both from a hiring perspective and because of how it's currently being utilized. As I've mentioned, there are still many manual processes in place for inventory management. And few, if any, solutions that assist with it from ordering to destruction. That means there's a significant opportunity to tie all that data together to build algorithms that will reduce labor costs and allow more focus on the customer. We should see these solutions become more widely available as they align with November 2023  DSCSA requirements. 
To learn more, read the full interview here.