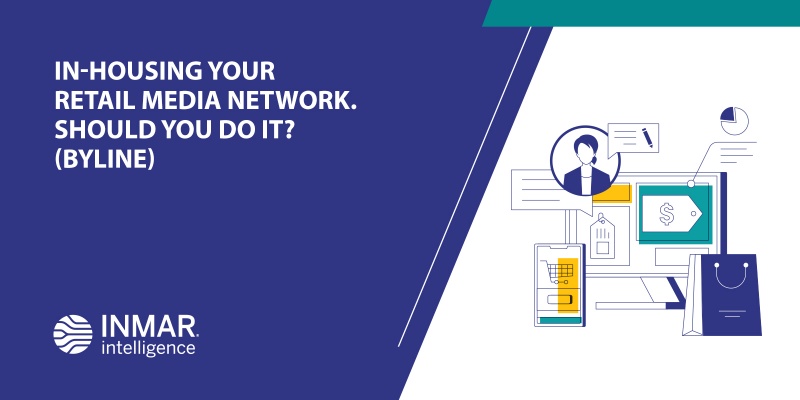 "In-housing" is one of the more common discussions we have with our retail partners when we advise them on their Retail Media Network strategy. There is a clear upside to this approach. However, it's not a zero sum game. To create an optimal approach, retailers need to balance their network's near term and long term revenue opportunities and consider all the costs associated with in-housing. 
There are varying degrees of in-housing. Amazon is the extreme example where the retailer has built an entire ad stack internally and hired all the sales and services individuals necessary to bring Amazon Advertising to market at scale. This approach is unique. Most retailers don't want to own ad tech and would prefer to license their stack externally and white label. So, in the majority of cases when we are discussing in-housing strategies with our retail partners, they are referring to sales and services exclusively. 
In this regard, in-housing has several benefits. The most obvious being revenue. Standing up an internal sales organization allows retailers to keep the revenue margin and increase the profitability of their media network substantially over time. In addition, in-housing gives retailers more control over their go-to-market strategy. This includes the sales pitch, product positioning and, further upstream, retailers can control the pricing, packaging and programs of their network.
But the reality is that in-housing is expensive. There is the obvious cost to hire and maintain an internal sales and service organization in a highly competitive market. Then there is the opportunity cost of choosing to ramp up an internal sales force versus outsourcing to existing teams. This is the cost that is often overlooked and not factored into the analysis. Tier-1 retailers can leave tens of millions of dollars on the table because their in-house sales teams are not nearly large enough (yet) to address the current market opportunity and their service organization is not equipped (yet) to handle real scale. 
Case in point, during a 2019 investor call, Walmart CEO, Doug McMillon, whose ad business lacks the sales coverage of Amazon Advertising, referred to Walmart Media Group's (WMG) ad business as "tiny" and suggested it "could be bigger." For context, the most recent estimates from eMarketer put WMG's ad business around $850M. Amazon, by comparison, is forecasted to bring in $13B this year. 
In most cases, it is beneficial for a retailer to start with a fully outsourced approach when launching their Retail Media Network. This allows them to get to market quickly -- leveraging experienced teams with established relationships that can generate revenue immediately for their network. This also affords the retailer the opportunity to get a better sense of the type of sales and service organization needed to address their various customers and budgets. They can then use this knowledge and insight to make more informed decisions as to which parts of the organization it would make sense for them to in-house and what parts are better off remaining outsourced.