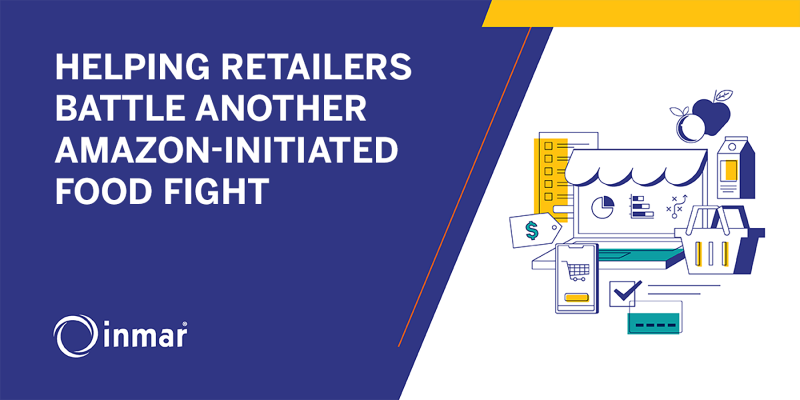 Amazon is at it again; shaking up grocery retail. The retail juggernaut's October announcement that all Prime members would be eligible for free grocery delivery is their latest disruption. While there are various purchase minimums for Amazon Fresh, the $14.99 per month fee is gone for Prime members in over 2,000 regions and that carries serious implications for the rest of the industry. 
This latest move will put serious pressure on traditional brick and mortar grocery retailers as retailer-specific membership requirements and/or delivery fees are currently industry-wide SOP for those offering delivery and/or click-and-collect grocery services. There are, however, strategies that retailers can pursue to address this challenge.
Create an Inspirational Online Shopping Experience
Amazon Fresh excels at convenience but misses the mark when it comes to inspiring shoppers and motivating additional purchase. Yes, shoppers can quickly find products and pull up past orders but there is none of the story-rich merchandising, attention-grabbing photography and recipes that engages – and activates. 
Traditional grocers need to differentiate their online platforms – and the experience they provide through it – by creating a media-rich site that inspires shoppers to explore new products, try new meals and recipes and learn more about the brands they love. It's what shoppers want and what they respond to, so why not give it to them?
Open New Online Revenue Streams
If consumers trend away from paying a fee for online grocery fulfillment (and that is a real possibility), retailers will need to identify new ways to generate revenue online. Monetizing their online properties in support of CPG marketing initiatives is not only a smart way for retailers to drive store traffic but an excellent means for maximizing brand funding. 
This online media strategy could include sponsored placement, sponsored promotions, premium product placement, ad units, etc. Aligning these offerings and placement with trade promotions, in-store CPG campaigns and shopper marketing initiatives can be a win-win for trading partners and a revenue generator for retailers. 
Executing on these two strategies requires that retailers have the correct digital tools and that's why we developed the Inmar Retail e-Commerce solution. Designed to create a superior online grocery experience for shoppers (without overwhelming the Marketing or Customer Experience teams) it's an integrated platform – unique to the marketplace – that combines a convenient, inspirational shopper experience with easy-to-use, back-end retailer tools for more effective e-commerce management. 
Our Retail e-Commerce platform empowers retailers to offer a richer, more personal online experience and create lasting relationships with their shoppers. It's just what traditional grocers need if they're going to stand their ground in this latest food fight.  
-------------
Interested in learning more about our solution and the benefits it can bring? Then call me at (336) 770-3459 or email me at alise.raak@inmar.com. Let's talk!
---
ALISE RAAK
PRODUCT MARKETING MANAGER, E-COMMERCE