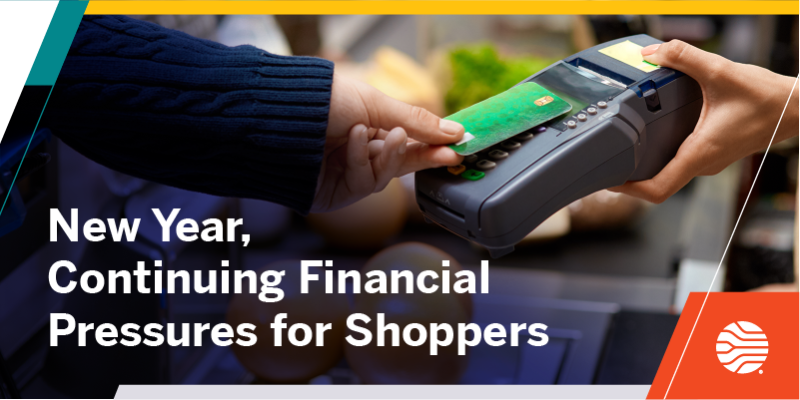 As we ramp up into 2023, it's more important than ever for retailers and brands to understand the financial pressures their shoppers continue to experience. While it may feel like we're cresting the hill — with inflation rates lower month-to-month — consumers are still seeing significantly higher prices in some categories, like food-at-home. 
Let's take a look at some of the numbers.
The consumer price index (CPI) for December 2022 was 6.5 percent, down from its high at 9.1 percent in August 2022. However, while food-at-home has also consistently dropped month-to-month since the fall, shoppers were still looking at prices nearly 12 percent higher YOY as of December. That's a big hit on the average shopper's wallet. 
What can retailers and brands do to make shopping more affordable and accessible? The first step is to listen to shoppers, so you can truly understand the pressures they're facing. Then you can use that learning to create tailored experiences — from promotional offers to loyalty programs — that will meaningfully help.
Here at Inmar, we've been fielding quarterly surveys of 1,000 consumers to listen and understand how these increased prices are impacting them, and how they're adjusting. 
We've compiled some of the data we collected in a one-page resource you can download by completing the form on this page. 
By reading it you'll understand:
How many shoppers are really concerned about inflation, and how that's changed over the last 10 months
What's really influencing purchase behavior changes
Who's most impacted by price increases
At a time when shoppers are hunting for savings, promotions are critical for brands. You have to make it easy to save to win loyalty these days. Do you have a flexible, efficient promotions strategy to win these weary shoppers?
OUR ONE-PAGER HAS MORE IN-DEPTH INFORMATION ABOUT CONSUMERS AND INFLATION IN 2023