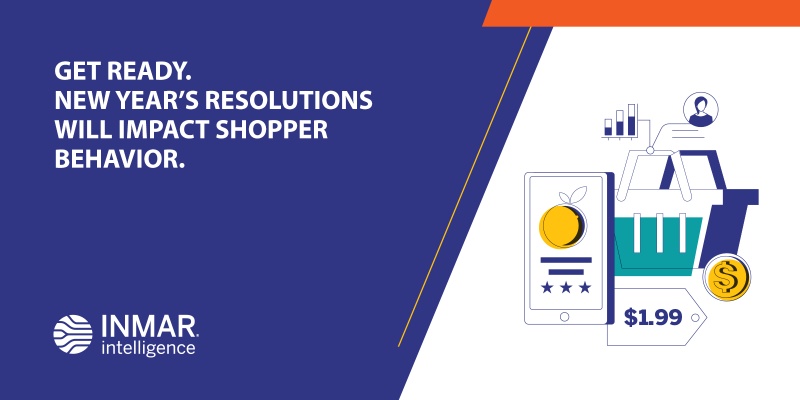 According to Wallethub, 40% of Americans say New Year's Eve is their favorite holiday. We feel the same way! After all, it's a time of celebration, trying new things, and starting fresh. 
Even if you already have plans in place to promote your products in the new year, there's still time to incorporate more tactics to drive brand trial. New year, new customers! We recently surveyed shoppers about their resolutions, and found some insightful trends that could help guide your promotion strategy.
49% of respondents said their 2021 New Year's resolutions were related to saving money
47%  joined their preferred retailer's loyalty program to support their resolution
48% prioritized saving money on groceries to meet their goal.
58% of respondents used digital coupons or offers to support their New Year's resolution to save money in 2021
50% of respondents stuck with their goals in 2021
27% of respondents plan to recycle their 2021 goals
47% of respondents will be modifying their 2021 goal to make them more achievable in the new year
How can you use this data to your advantage? 
If 49% of shoppers are setting finance-based goals, we know that will impact how they make purchasing decisions at the grocery store, especially since 48% will prioritize saving money on groceries to meet those financial goals. Shoppers will be looking for savings and will be more likely to make changes to their shopping routine, in fact, 86% of shoppers who used a coupon, reported that the coupon changed their shopping behavior. Meaning they either purchased more of a product, purchased sooner, or purchased a product that they otherwise would not have. With a New Year goal to save money on their grocery purchases, we expect to see coupons increasingly impact shopper purchase decisions.
Because this is how shoppers will be making decisions,  you should build a promotion plan that helps them succeed — like giving them opportunities to save money on their regular grocery trips with digital coupons. This is the perfect time to get your brand in front of those shoppers, and build loyalty as they work toward their goals.
Like the gym, retailer's coupon galleries will be frequented more often
As you might know from your own experience, people don't always stick to resolutions throughout the year — but  those first few months are usually strong. Because of that, Q1 is an especially good time to amplify your presence in the coupon gallery. 58% of shoppers surveyed said they used digital coupons to support their New Year's resolutions in 2021, so we can expect to see an increase in demand for digital coupons at the beginning of 2022. Many retailers will be running events and programs to drive consumers to the coupon gallery, and you have the perfect recipe for increasing your spend on digital coupons. Plan your promotion strategy so you can ride the coattails of the additional promotion and traffic these coupon galleries will receive in early 2022.
Consumers are looking for meal inspiration. Give it to them!
With approximately 50% of consumers setting a goal to create a healthier lifestyle, many will be leveraging social media to find new recipes. Work with influencers to develop content promoting healthy recipes featuring your products, and make it easy for them to add your brand to their cart. About 19% of consumers said they didn't accomplish their New Year's Resolutions this year because they didn't know where to start. By showing consumers how to incorporate your product into their new lifestyle, you help remove that roadblock for them. By combining your digital offers with media to amplify your brand, you not only expand the reach of your offer but can also emphasize the value your brand provides to encourage shopper engagement. 
You can also learn more about how you can target your promotions and media to buyers of specific dietary attributes by filling out the form on this page.
New year's resolutions are just the beginning!
We can help you plan a promotion strategy that will put your brand in front of consumers, when it matters most, throughout the new year. Reach out to solutions@inmar.com and schedule a consultation with one of our experts today!