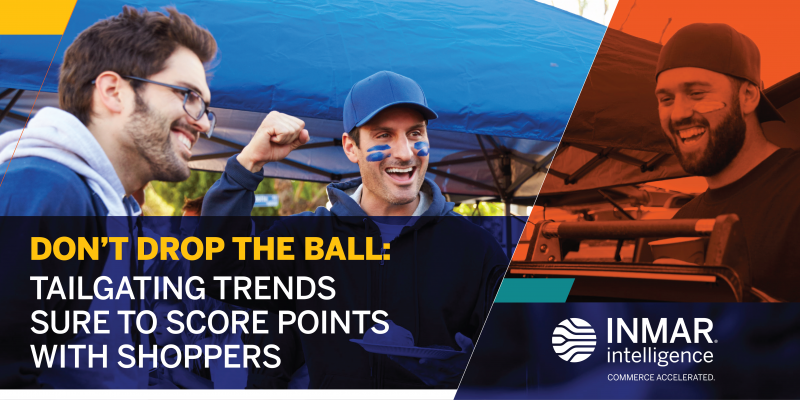 Meet Your Tailgate Shopper & Their Biggest Purchases.
Football season is approaching fast, and you know what that means: tailgating is coming back! Fans can finally gather again in stadium parking lots nationwide to huddle around grills, pop open a few cold ones, and celebrate the big game before it even begins. But what's the best way to reach these football fiends?
With figures and insights gathered across our ShopperSyncTM data intelligence platform and data-enabled Inmar solutions, this new trends guide will help you reach tailgate shoppers as they plan for a big return to their favorite pastime. Use this playbook well, and it'll help you reach the end zone with your shoppers this fall. 
What Foods Rule The Blacktop Barbeque?
Inmar Social Listening data tells us that approximately 42% of all social media conversations related to football tailgating are discussions about food. These fans are hungry, thirsty, and ready to chow down on a number of popular picks. 
Indeed, over 75% of football fans say that food is the most important part of a successful tailgate. But what foods win big at the pre-game? According to consumer purchase data, certain categories have grown significantly in the past year; cheese, hot snacks, and pork chops have made big strides, to name a few. 
Hamburgers, hot dogs, and other tailgate staples hold MVP status when it comes to pre-game purchasing. However, a few promising contenders are gaining in popularity and may prove to pull market share from the known tailgate tentpoles. 
Enter The Refreshment Red Zone
A tailgate isn't a tailgate without a bevy of cold beverages. Unsurprisingly, tailgater social media conversations peg options like beer, hard seltzer, and vodka as must-have refreshments. Survey data informs that the average shopper will spend over $60.00 on beverages for their tailgate experiences, with beer accounting for almost half of that spend. 
Confirming the popularity of certain tailgate drinks, Inmar-sourced consumer browsing data identifies a 1.35x increase in browsing behavior for beer and ale directly before the first game begins. This trend continues through the month as the season progresses. 
Don't Run Out The Clock; Timing Is Key
As football season gets closer, social media users start to search and purchase in very specific ways. For example, searches for phrases like "tailgate food" and "tailgate recipe" and social media discussions about those topics rise dramatically throughout August and then peak in September. Pair this information with the increase in beer browsing behavior, and a critical pre-football shopping period appears. 
Getting in front of consumers in the right place and at the right time relies on a data-driven approach and alignment with shopper preferences. Luckily, everything you need to build your plan -- from timing insights to consumer behavior data -- is available in our 2021 Fall Football Tailgating Trends Guide. Together, we can make this football season one for the books. 
Review our full Fall Football Tailgating Trends Guide for key plays and golden opportunities to reach your tailgater shoppers this year. With these data-supported tools and curated insights, you'll have everything you need for a big win in 2021. 
The playing field belongs to you. Download a free copy of our 2021 Fall Football Tailgating Trends Guide today.