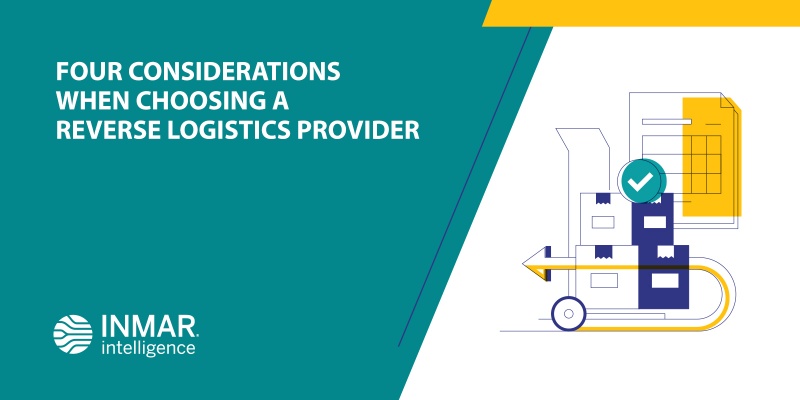 Managing your own product returns and reverse supply chain can be costly and labor intensive. This effort draws focus and resources away from the forward supply chain and the all-important function of getting products to your customers. So, with the myriad challenges attached to managing product returns, it's easy to write them off as a loss. But that isn't always necessary. At Inmar Intelligence, we know there's opportunity for maximizing the value of your returns -- if you have the right reverse logistics provider. 
Working with a professional, truly capable reverse logistics company, you can not only maximize value on returns but also proactively reduce your returns volume while protecting your own brand and those of your manufacturers and vendors. Whether you're a retailer or a manufacturer, there are four key factors you should consider when selecting a provider to help you optimize this part of your business. 
1) Hands-on Experience
Are you looking at a provider that has experience working and processing products for a company like yours? Or are you looking at a company that wrote some software and has some ideas about how returns should be handled? There's a big difference when you look behind the curtain of the claims some providers make. You need someone who has been there, done that; someone that understands the product life cycle; that has insights into why, how and which products come back and that knows what you can do and what value can be retained with a product when it does come back.
2) Systems and Software
You need to look closely to see if the reverse logistics provider you're considering has the software and systems that can take product from either the end consumer or the store, or both. A worthy provider will have a platform that enables them to take product out of the supply chain whenever and wherever appropriate and put it back in the correct spot easily and efficiently, prioritized by the value returned to your bottom line. Ultimately, they must have the technical capacity to enable seamless, high-volume scanning and processing of returned product in order to maximize value recovery for the inventory coming back.
Maximizing value recovery is critical. Your provider must have that as their focus and must have the software necessary to execute on this priority. As an example, roughly 70 to 80 percent of e-commerce returns are in sufficiently good condition that they can go back into stock. If your provider is unable to accommodate their speedy return to shelf and, instead, just processes the product in order to sell it on the secondary market or return it to the vendor, you're losing value that you could, and should, recover by putting it back in stock. 
3) Secondary Market Insights
Does the reverse logistics provider you're considering have an in-depth understanding of the secondary market and a strong liquidation team that can maximize recovery? A provider that has both should be able to get you anywhere from 30 to 50 percent of selling value on the secondary market for products in pristine condition, such as overstocks. In the case of returns, recovery could be anywhere from 10-15 percent. It's less value but it's a more sustainable practice than sending product to a landfill, which costs you money.
With liquidation being a common scenario for many categories of returns you need a provider that knows the secondary market inside and out, has a committed, capable sales team able to move product for you at the volume and scale you need and a robust buyer base eager to engage. It's a lot to ask and not everyone can deliver on the need.
4) Physical Infrastructure
You should select a provider that has sufficient infrastructure to physically accommodate and process returns. Distribution centers and/or fulfillment centers are must-haves for getting product to consumers but who wants to operate their own returns center? Returns tend to pile up in distribution centers to be dealt with "later," getting in the way of higher-value goods and demanding the time and attention of staff you need focused on processing forward-bound product. 
Does the provider you're considering have facilities in place? Are they secure? Can they accommodate multiple disposition outcomes and evaluate which ones bring you the most value? Are they strategically located for cost-efficient transport of goods? Time and money spent moving product impacts recovery. You need a provider that can minimize that impact.
Choosing a reverse logistics provider is one of the most important business decisions you'll ever make, as the effect they can have on your operations -- and bottom line -- is tremendous. They need to be experienced, equipped, capable, flexible and committed to your success. In short, they need to be a partner. They're not easy to find but they're out there. And now you have the selection criteria.
These are the top four factors you should consider when choosing a reverse logistics provider:
Hands-on Experience
Systems and Software
Secondary Market Insights
Physical Infrastructure