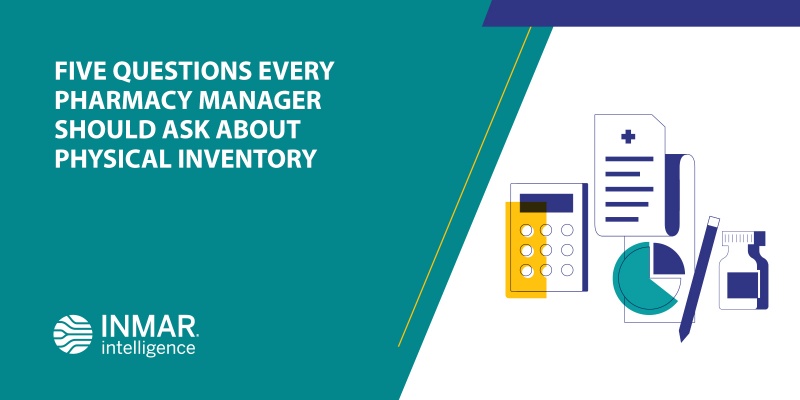 Pharmacy physical inventory is a critical but sometimes disruptive process within the healthcare system. But getting an accurate on-hand product count doesn't have to interfere with everyday pharmacy operations. By engaging proven experts and asking the right questions, pharmacy managers can identify the best options available for driving improved inventory efficiency in support of greater profitability.
So, here are five questions that pharmacy managers should ask to make sure they're getting the professional inventory services they need -- and should expect. 
Q: What kind of experience in hospital pharmacy inventory does the on-site inventory staff have and what kind of training have they received?
A: Given the complexity of getting an accurate Rx count and the requirements for maintaining confidentiality, it's essential that the team performing the inventory be experienced and fully trained. Inmar's  inventory team members have experience in pharmaceutical inventory and must complete two proprietary training modules: Hospital Pharmacy training and Protecting Patient Privacy (HIPAA).
Q: On average, how long does it take to inventory a pharmacy?
A: There really is no "average" as every pharmacy is different in size, volume of medication present and count requirements. However, it's reasonable to expect that a full physical inventory will be completed within one business day. Therefore, the goal of Inmar Pharmacy Physical Inventory Services is to complete the inventory within 4-5 hours. To help meet that goal, pre-inventory planning calls will take place to ensure all parties are in alignment regarding the team size and time required to complete the inventory process.
Q: What takes place prior to the actual count?
A: Pre-event preparation and coordination is critical to ensuring an accurate, complete and efficient physical inventory. Inmar will send an inventory confirmation email including the date and time of the inventory along with a list of next steps and an expectations document to help outline everything that is needed in advance and on the day of the inventory. Once the date for the inventory has been confirmed, the Inmar Inventory Services Team will contact identified pharmacy vendors and request the appropriate files and help pharmacy personnel identify anything files that may need to be supplied by the pharmacy. Once all files have been received and everything is in order, we will set up our software to allow the handheld device to validate the scan against the files that have been loaded to give you an accurate count with correct NDCs and price points.
Q: What kind of data is available to pharmacy staff while the inventory team is on site?
A: Day-of-inventory auditing by pharmacy staff is an entirely reasonable request and if it can't be easily accommodated then something is wrong. If requested, the inventory team will provide an "edit list" report showing all NDCs scanned in the area to be audited along with their price points as previously provided. And, as a standard practice (and an added service feature), the inventory team leader will run a High / Low Qty and High Price / Extension Report to help identify items that exceed a threshold of dollars per unit or as an extended price
Q: How long should it take to receive post-event reporting after an inventory?
A: With an experienced, professional provider performing the inventory, the answer should be "not long." But, then again, some groups are more capable in executing timely reporting than others. Inmar's expectation is to provide inventory clients with a preliminary report within 5 days of the inventory completion date. In some cases, the turnaround may be even quicker. However, if the pre-inventory files received by Inmar do not contain NDC references, it may take a bit longer. After clients are provided the preliminary report, they will have the opportunity to provide feedback to help finalize the report. 
Asking these five questions is a great start to securing quality pharmacy physical inventory services; but, still, it's just a start. Speaking directly with an Inmar representative is the best way for pharmacy managers to ensure an accurate, efficient inventory that enables enhanced operations -- without interfering with "day of" pharmacy business. To learn more, watch our informative pharmacy inventory video.