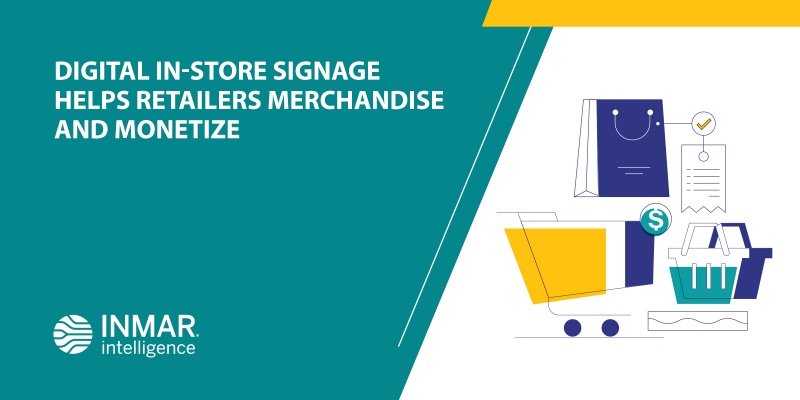 Retailers have started to incorporate digital signage into their in-store experiences. Whether it's a media player that loops a video, or a large-screen display near the deli that showcases specials for the week, digital can be more engaging and creative than printed signs.
In-store signage is a powerful media tool that captures both top- and bottom-funnel activity through brand impressions, and creates a short path to conversion at the shelf. For example, grocery stores get an estimated 31-35MM shoppers a day - that's 31-35MM captivated eyeballs a day. And a recent Inmar survey, conducted in June, 2021, shows that 68.7% of shoppers browsed the products they'd seen in an in-store ad, while 60.8% purchased the product.
The transformation into digital formats is picking up steam thanks to the advancement of software and ad networks, improvements in connectivity, and reduced hardware costs. Combined with an increase in demand by CPGs on digital out-of-home and video formats, this creates a prime opportunity for retailers to create more sophisticated supply and earn their share of those advertising dollars.
Advertisers are looking to spend on digital media inside and around stores.
Today, brands can't reach into stores at scale with programmatic-only platforms. However, by pairing programmatic with direct, CPG-sold packages, retail media networks can earn their piece of significant DOOH budgets. Beware of the multiple channels, though, as advertisers seek simplicity in the DOOH buying process as they look for results and confidence in the emerging format.
Retailers should use in-store digital signage as an opportunity to:
Create full-funnel turnkey packages for their vendors, with off-site/on-site media, digital promotions and in-store signage.
Maximize digital signage revenue streams by optimizing inventory yield — CPG-direct merchandising programs, programmatic media revenue (with parameters) and retailer program advertising (digital circulars).
Improve relevance for shoppers — using engaging video or motion, audio, etc. — targeted by season, time, day, and geography, to create excitement within the store.
Make it easy for shoppers to scan codes and immediately activate incentives or engage with other in-store event content.
Find a partner who will:

Manage the infrastructure with you.
Connect in-store screens to a robust ad network as part of your full media and marketing offering.
Empower you with oversight decisions on the in-store experience and advertisers
Deliver buying packages and measurement for a full funnel of shopper touchpoints.
Retailers who are not ready to add digital signage to responsive, programmatic ad platforms can still begin to leverage digital as a dynamic, engaging and optimized inventory option on a direct-sold basis through a robust content management software and service.
Positioning traditional analog signage as a media investment and adding print to mobile integrated experiences, are other ways to start the transformation shift. Let in-store signage promote a retailer app — making it easy for shoppers to clip digital coupons while in the store or find new recipes that will navigate them to store areas and grow their baskets.
Digital will not displace analog media immediately, and most retailers will continue to benefit from the placement flexibility and ad volume that print signage supports. But ad-tech and shopper-tech improvements indicate digital is picking up steam in stores. Retailers who are innovators, or like to be first to market with new shopper experiences, should supply their valuable store media inventory to digital media buying platforms now.