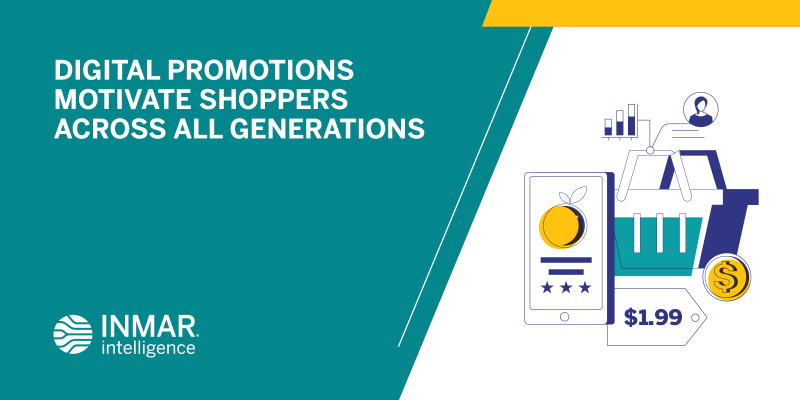 With the expansion of our national open promotion network, the deployment of our enhanced offer targeting and the availability of greater insight into shopper behavior from our analytics team, Inmar clients are, with greater and greater success, engaging identified market segments using digital promotions — across the country and across generations. It's become an understatement that the convenience and influence of digital offers are irrevocably changing the promotion landscape.
For the record, that landscape is about to change even more as marketers will soon have new opportunities to motivate shoppers and build brand equity while executing cost-efficient omni-channel marketing. More on that next month.
The cross-generational interest in digital coupons, and their influence on shopper behavior, were highlighted during our September "Shopping Across Generations" webinar. The presentation summarized findings from five different shopper studies conducted by Inmar Analytics in 2014 that involved more than 3,000 shoppers. Those findings, some of which are presented below, challenge marketplace misconceptions about the promotion-related behavior of Baby Boomers (ages 50-64), Gen Xers (35-49) and Millennials (18-34).
Contrary to perceptions that older shoppers are limited in their use of technology and their engagement with digital coupons, Inmar's research found that 54 percent of Baby Boomers would use coupons more if they were more available online. Digital coupons are also important to Gen Xers, 41 percent of whom include the availability of digital coupons among the important factors determining products purchased. As for Millennials, 59 percent list the availability of digital coupons among the important factors determining products purchased and 53 percent wish all coupons were digital.
Regardless of shoppers' expressed propensity for using digital coupons, in order to generate conversion the offers and other content must be properly timed for delivery, genuinely relevant and easily accessible through shoppers' preferred media channels. Significant requirements, yes, but readily achievable — due to the unique attributes of digital promotions.
With accelerated offer deployment and "in flight" controls, digital coupons offer marketers a tool for swift execution of sales-driving promotions in a marketplace where the demands for convenience and easily achieved savings are paramount among shoppers. Their inherent agility allows for well-timed activation of campaigns that can match traditional methods for reach, but with superior "exposure" and budget management capabilities. Digital offers only stay active and available as strategy demands and budgets allow.
The dexterity and broad appeal of digital promotions is something to take into account when developing 2015 marketing plans and equally important to be aware of as you look at finishing 2014 with a strong close. A digital offer, deployed now, could significantly boost year-end sales efforts and drive revenue growth that would make everyone's fast-approaching holiday season even brighter.
Among these three groups, which do you see as being the best to target through digital promotions — in order to generate the most immediate incremental sales? I would be interested in hearing your thoughts as to how influential digital promotions are across generations. Please share your comments below.