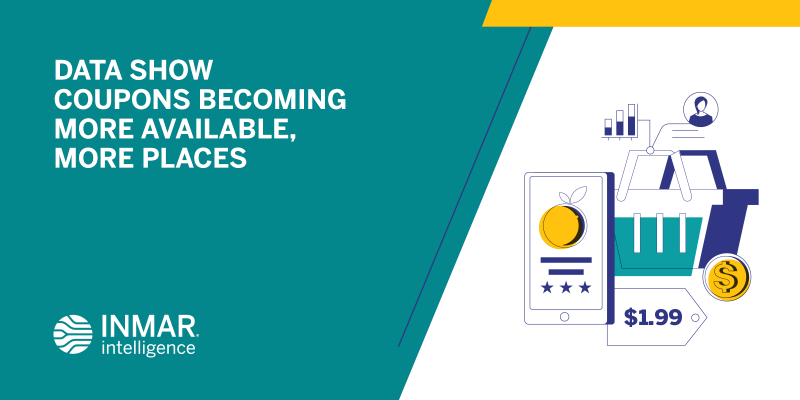 Hopefully, you were among those who attended Inmar's Mid-Year Coupon Trends Report webinar. Devora Rogers, Senior Director, Retail Marketing Insights and Andrew Coleman, Senior Consultant shared not only topline and method trends for coupons in H1 2014, but also coupon activity-influencing findings from our 2014 Shopper Behavior Study and 2014 Promotion Use and Supply Chain Influence Study. Our Inmar Analytics team seeks to bring you insights which help you spend your promotion dollars more effectively and with better results.
A central takeaway from the webinar was that there are more techniques for promotion than ever as marketers seek to understand how shoppers will engage with new digital, mobile and social technologies. FSIs are still the method-of-choice for CPGs, making up 91 percent of all coupons distributed in H1 2014, and their share of redemption volume (42.3%) remained unchanged compared with the same period last year. At the same time, in-store methods — along with digital coupons — saw a high percentage growth in redemption, albeit a smaller portion of a larger base.
To help understand these trends, we have researched carefully where shoppers are looking for their coupons. Our research shows that, on average, shoppers are using 5.8 methods to discover and acquire coupons. The table below is from the 2014 Inmar Shopper Behavior Study.
Methods Shoppers are Using Regularly to Discover and Acquire Coupons
Sunday newspaper inserts
49%
 
Brand/manufacturer's website
27%
Store circulars
45%
 
Email (retailer-specific)
28%
IRC/on pack
40%
 
In-store handout
28%
Load-to-card
38%
 
Coupon blog/forum
25%
Coupon website
35%
 
Magazine
24%
On receipt
34%
 
Mobile app
20%
Direct mail
33%
 
Text message
20%
Shelf pad
30%
 
In-store kiosk
19%
Retail store website
28%
 
Facebook
15%
FSIs hold the number one position, but the data show more fragmentation and increase in the number of sources used, indicating that distribution is becoming more ubiquitous.
This increasing ubiquity is a good sign, because we believe that the convenience provided by the multitude of methods available presents excellent engagement opportunities for marketers who have studied their audiences well enough to have identified their preferred delivery channels.
However, with more coupons in more places, we expect redemption validation to become the core issue. I will share more on this issue in the coming months.
Our mid-year coupon trends report is typical of the critical, detailed data we deliver to our clients. Please talk to your account representative about accessing data — including the Inmar 2014 Shopper Behavior Study — that can inform business decisions and improve outcomes.
In the meantime, I'd like to know your perspective regarding how the variety of methods for promotion delivery will influence future distribution strategies. Please share your thoughts in the comments section below.