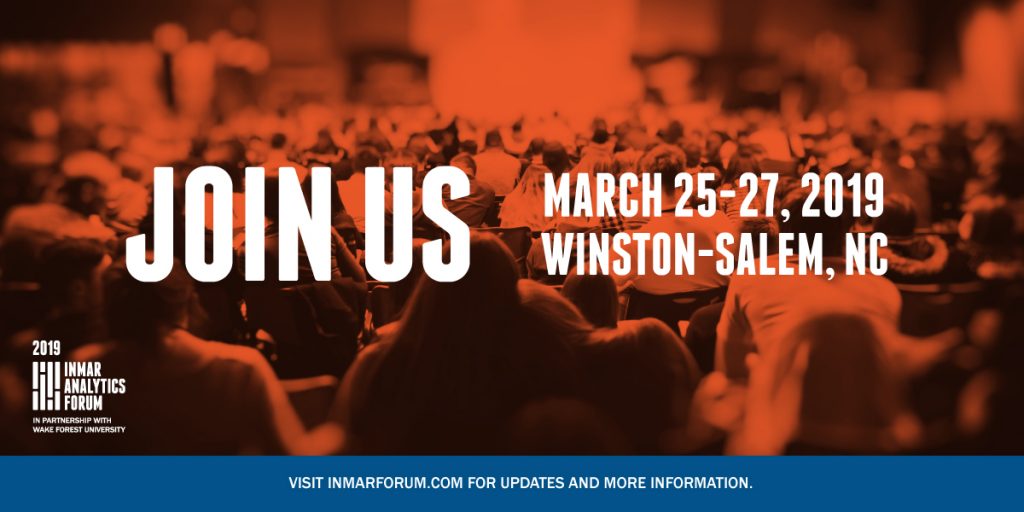 Prepare yourself for a three-day crash course on using analytics and technology to impact the success of your company.
You asked, we listened
We're elevating the content for our 5th annual Analytics Forum and bringing in industry-leading speakers and thought leaders. You will leave this analytics conference with strategies you can implement immediately to improve shopper activation, patient engagement, supply chain operations and overall operational efficiency.
Leveraging data for direction
This isn't your average data and analytics conference. The Inmar Analytics Forum draws 500+ of the most innovative, Retail, CPG and Healthcare professionals to discuss an array of data-driven strategies for improving business and patient outcomes. From conversational commerce to DIR management to cloud billowing, we're addressing the biggest issues in business and healthcare today. With a uniquely collegial and collaborative atmosphere, the Analytics Forum provides the perfect environment for learning, building relationships and gaining actionable insight into achieving business and organizational success.
Let's get interactive
Don't worry, you won't be glued to a chair all week. We'll give you plenty of opportunities to get up and connect with peers, including an 80s Throwback Party to unwind after a day full of data!
Real time insights from your customers
We're bringing real consumers and patients into the mix! Join us as we have honest discussions and leave with exclusive insights to improve consumer and patient experiences in your industry.
Check out some highlights you'll find at the 2019 Analytics Forum:
Live Consumer & Patient Panel
"Ask an Inmar Analyst"
4 RPH Continuing Education Credits
Inmar Innovation Lab Tours
80s Throwback Party
Special Guest Entertainer (keep your eye out for the big reveal!)