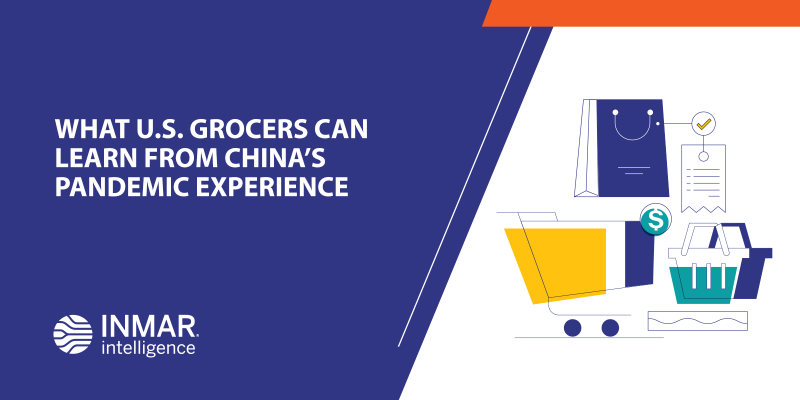 As the coronavirus pandemic continues spreading across the globe, each passing day seems to offer a new, vastly different version of reality. In the midst of constant upheaval, there's a high degree of uncertainty, especially for the essential businesses in the U.S. now dealing with operational impacts of the virus. Fortunately, there are clues as to what's on the horizon. The surest signs come from events that have already taken place in other countries, particularly China. This recent article featuring a discussion between IGA President and CEO John Ross and Zhe Zeng, IGA's deputy representative to China, offers valuable insights for American grocers who are currently shouldering enormous responsibilities. 
While nervous shoppers brave long lines and potentially empty store shelves, grocers are adjusting their operations and navigating supply chain issues to try and keep up with surging demand. Just as their counterparts did in China, U.S. retailers are responding with purchase limits on items in high-demand categories, expanded cleaning and sanitation efforts in stores and dedicated hours exclusively for older shoppers. 
BUYING PATTERNS WILL SHIFT
Once the initial wave of panic purchasing around cleaning supplies, paper goods, shelf-stable packaged foods and staple foods slows, evidence from China indicates that shoppers will shift their focus back to fresh vegetables, condiments, meats, poultry, deli and even kitchen appliances as sheltering in place becomes the norm. Over the counter cold and flu medications, pain relievers and health and beauty goods, such as hair color, will continue to be key purchase items as well.  
Establishing protocols to protect both store associates and shoppers is another operational imperative for retailers. They must work to maintain the trust of both groups through publicized action and clear guidelines. Store associates are on the frontline of this crisis and companies must do everything they can to keep them safe and informed throughout. 
SHELTERING ONLINE
Arguably, the most visible shift in shopper behavior seen in China during the outbreak has been the  explosion in online grocery orders. It's happening here as well. While Chinese shoppers flocked to retailer portals and social networking apps like WeChat, Americans are turning to Instacart, Shipt, Boxed, and retailer-specific apps in record numbers. This surge in online grocery orders is adding pressure to already stressed operations but retailers are finding ways to cope. Whether or not this is a permanent shift that will reshape the industry after the current crisis is over, remains to be seen. The potential effects loom large.  
While our system differs from China's in fundamental ways, many of the challenges and choices we're now facing do not. It's the same virus. Studying what has already occured in China, as well as Italy and other nations, offers critical guidance that grocers cannot ignore. 
At Inmar Intelligence, we continue to leverage every resource at our disposal in support of clients navigating this crisis. If there's anything we can do for you, do not hesitate to get in touch.
The current situation has introduced more questions than answers for many brands and retailers. Jim Hertel, SVP Inmar Analytics, offers insight into some of the most pressing issues here.