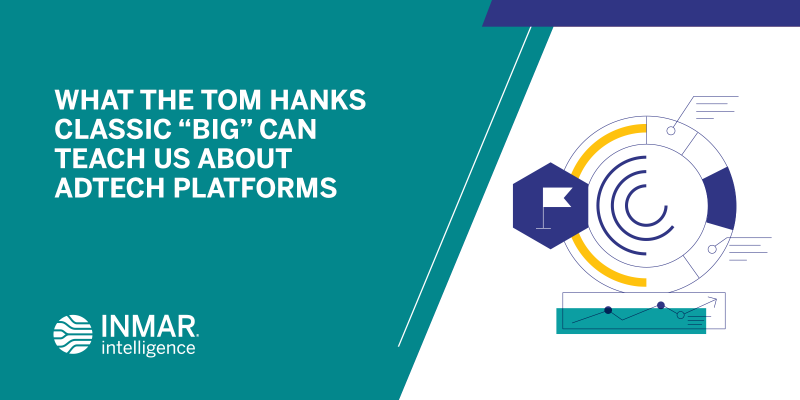 With Coronavirus keeping me home, and with three rambunctious kids to entertain, we decided to put on the Tom Hanks' classic movie "Big" in the hopes of keeping the kids distracted long enough for me to write this blog. As I watched, one scene in particular stuck out to me - it's the part where the jerky marketing guy is presenting the skyscraper transformer (worst idea ever) and Tom Hanks' character raises his hand and simply says "I don't get it." 
You see, when I'm not homeschooling my kids or watching Tom Hanks movies, I spend most of my time at my day job attempting to cut through the endless minutiae that surrounds the various tech platforms we partner with to power Inmar's programmatic media platform. Every day, I'm confronted with buzz words and marketing phrases that mean very little inherently, but describe very important features or facets of the platforms that we need to understand to make an informed decision. Last year, one of those buzz words was "bid shading," which is ironic to me. In an industry driving to embrace transparency, do we really need any more shadiness? 
In an article from AdExchanger (Adexchanger - March15, 2019), The Trade Desk elaborated on how for a fee, it uses "bid shading," an opaque, algorithmically-driven process, to more accurately predict and price bids on its DSP for advertisers. It was that point right there, charging an additional fee to accomplish what one would think would be standard operating procedure for a tech platform, that really made me feel like Tom Hanks. "I don't get it," I thought to myself, questioning not only how The Trade Desk had hidden fees in such a necessary service, but also how they'd manage to hide all of the actual details of this service behind a trendy term.
At Inmar we believe that cutting edge technology is something to push into full view to invite challenge, criticism and analysis. 
As such, we have designed our algorithms to not only optimize every bid price for every impression opportunity observed during your campaign based on actual data collected over billions of opportunities each month, but also to transparently report on every aspect of your campaign, including: 
The spread of prices paid for impressions; 
Impression events that led to conversions, organized by price and time of day; and
Algorithmic bidding on an hourly basis that ensures your ad campaign averages out to a targeted CPM rate. 
If you're interested in learning how Inmar can help your organization know exactly the right price to pay for every impression and know that you paid that price every time, now is the time. With the overwhelming shift in the adtech market, from 2nd price auctions to 1st price auctions, price accuracy and transparency are more important than ever. Not all platforms are created equal, and neither are the results they produce. Have you challenged your technology lately? If not, schedule a demo of our programmatic media platform today by visiting https://www.owneriq.com/sign-up.