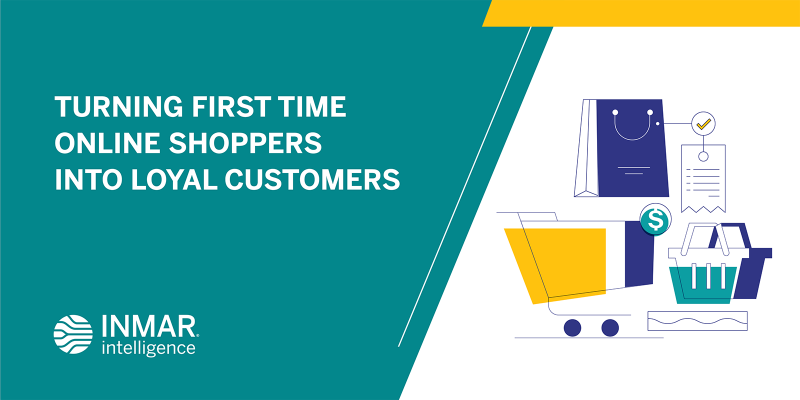 The COVID-19 pandemic has sent millions of shoppers online -- many for the first time -- to buy their groceries. According to a survey by Acosta, approximately 28% of online grocery shoppers made their first online grocery order during the month of March as a result of the coronavirus crisis.
This influx of new online shoppers represents a tremendous acceleration of the already anticipated growth in grocery e-commerce and presents retailers with an equally tremendous opportunity to strengthen relationships and grow sales -- if they can carefully cultivate these new customers through thoughtful and strategic engagement. Here are five keys to bringing "first timers" back online and retaining them as regular, loyal customers: 
Pay special attention to first time online shoppers. 
Identify who is shopping online for the first time and offer them additional assistance. This group is likely stepping out of their comfort zone in using online grocery shopping during this stressful and uncertain time, so any "hand-holding" that can be provided will be good for them. And good for business.
Help them through their first orders with clear and simple messaging. Consider posting a "how to" video or providing step-by-step ordering instructions, especially for those who are not particularly tech-savvy. Or have your online service team reach out to them directly. Establish trust early-on by proactively easing their concerns and demonstrating that help is readily available. This will go a long way toward demystifying the online grocery shopping process.
Communicate openly and frequently. 
Use all the vehicles at your disposal to communicate openly about the measures that you and your team are taking to keep your stores, and the community, safe. If addressing the crisis while contending with increased order volume is limiting your team's ability to provide your usual level of service then publicly acknowledge the challenge to your shoppers. 
At the same time, be explicit about inventory shortages or purchase restrictions so that shoppers know what to expect when ordering products in affected categories. Providing this kind of transparency into your situation will help avoid potential frustration and foster patience among your shoppers. 
Consider waiving shopping fees and delivery charges. 
The 2020 Inmar e-Commerce Survey found 24% of online grocery shoppers citing additional fees for pickup or delivery as a deterrent to their shopping for groceries online. Give careful consideration to waiving fees and/or work with your delivery partners to discount delivery fees as much as possible. 
Removing (or lessening) this impediment will build business along with critical shopper goodwill. Consumers are closely watching trading partners to see who is trying to help during these challenging times and providing even this small financial relief will leave a positive impression on shoppers that will be remembered long after the current crisis has passed.
Take care of your front-line employees. 
Whether they're fulfilling online orders or managing the customer service lines, look after your employees and their immediate well-being. In addition to optimizing work schedules to accommodate personal and family needs, provide them with additional incentives and recognition to help them stay positive and motivated. The attitude and behavior they display when interacting with customers during this stressful time for everyone will leave a lasting impression on your shoppers. 
Plan ahead. 
Start thinking, now, about how you want to continue to engage your new online shoppers when the immediate effects of the pandemic subside and conditions begin to normalize. Consider which of your customers' shopping behaviors you would like to encourage and enable in the future -- both online and in store. 
To effectively inform future engagement strategies, focus on carefully tracking online behaviors now. The current situation has created a unique opportunity to capture critical shopper data that, with the application of advanced analytics, will enable you to create a more personalized online experience for shoppers and a more profitable one for your business.
With proper planning and a purposeful approach to engaging new online shoppers, retailers have the opportunity to take their relationship with these customers to the next level. Future loyalty requires building trust today and this uncertain time is a pivotal moment in which to build long-lasting relationships with your shoppers.