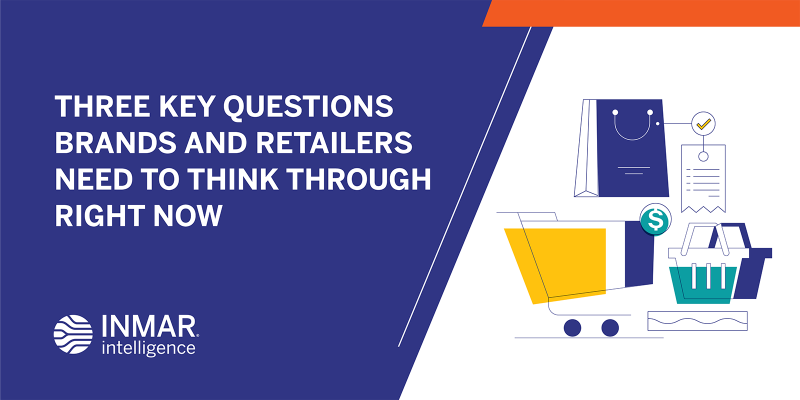 We are all in something of a state of shock. None of us expected our lives would be irrevocably changed so suddenly. Despite the current standstill in so many sectors of the economy, there's never been a more important time to be thinking about the future of your business. 
#1 Does my brand need to reposition in preparation for a post-coronavirus world?
There's no question that consumers have been watching how brands and retailers are contending with this pandemic. Those trading partners perceived as having gone "above and beyond '' in serving customers are going to leave a positive, and indelible, imprint on consumers' minds. 
On the retailer-side, actively communicating with shoppers on issues of safety and store access, enabling an enhanced online shopping experience, providing greater delivery and pick-up options and setting special hours for senior shoppers have all been well-received demonstrations of a shopper-first mindset that retailer-loyalists will continue to expect long after the current crisis has passed. Optimizing the shopping experience and creating a genuine connection with shoppers have always been important; going forward, they'll be critical.
Brands face equally unique challenges ahead as consumers' purchasing prerequisites may change along with their lifestyles. A recent study by NYU Stern's Center for Sustainable Business found that 50% of CPG growth from 2013 to 2018 came from sustainability-marketed products. But, will that continue to be the case? 
Given recent events, and the potential for their recurrence, will shelf-stability take precedence over environmental sustainability? Will guaranteed sanitized production be more important to shoppers than low sodium? Being "on trend" could take on a whole new meaning in the not-too-distant future.
#2 Are recent changes in consumer behavior short-term or long-term?
It would be very easy, and premature, to see recent changes in consumer behavior as simply reactive and, therefore, short term. Yes, much of the change developed out of immediate necessity but what is the potential for these behaviors to remain fixed elements of a still developing "new normal?"
As Americans rediscover the experience of the regular at-home meal, who's to say this familial interaction won't return as a regular and more frequent occurrence? And what new foods and recipes have consumers discovered, to their liking, during the mandated sequestering? Could we see permanent changes in both dining habits and dietary preferences? 
The largely indiscriminate and likely brand-indifferent purchasing that's been taking place is going to end. As brands get a handle on current replenishment issues and intentional pantry-loading and overbuying subsides, shoppers will return to more selective, cost-sensitive and brand-conscious shopping behaviors. But, will they return to their past favorites? Or, with hyper-accelerated buying having induced unanticipated brand trial, will emerging brands be able to sustain new sales and retain recently won share of wallet and stomach? Brand loyalty is very much "in play" and can no longer be assumed.
#3 How important will e-commerce be going forward?
This one is easy to answer. The only real difficulty is choosing the best, exact response. "Hugely important," "absolutely essential" or even "critical to survival" could all apply.
Online grocery sales were already predicted to substantially increase in 2020 and that's, of course, come to pass much quicker than anyone expected. And, there's every reason to believe that the growth trend is only going to continue even after conditions have "cooled."
The pandemic has generated a huge new group of first-time online shoppers who, having experienced the convenience of the online grocery experience, will return. Occasional, "part-time" shoppers have now become "regulars" and those shoppers who had already adopted e-commerce as their primary means for grocery shopping are forever cemented in this shopper behavior.
While retailers will rightfully look for ways to maintain "normal" foot traffic when shoppers' schedules return to some degree of pre-pandemic normalcy, they must act in parallel to optimize their online operations. Whatever hesitancy there may have been to full commit/invest in e-commerce must be vacated immediately. That is, if that hasn't happened already. 
For brands, now is the time to carefully examine (or, perhaps, re-examine) the opportunities inherent in direct-to-consumer online sales. Their customers are online and they need to be there, too.
Right now, there are more questions facing trading partners than there are answers. But, the unknowns need to be explored now so that brands and retailers are ready for whatever lies ahead.
 
Click below for more insights into engaging consumers in the midst of marketplace disruption.
To better understand the importance of having transparency from your marketing partners and how we ensure that our clients have this critical visibility, download our white paper, "The Transparency Imperative: What Brands Should Demand From Their Partners."