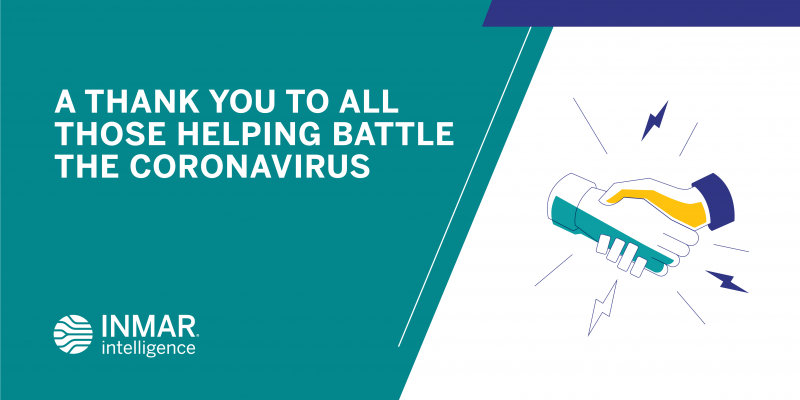 We should all take time to thank the many organizations and companies that are stepping up and making an impact in the battle against this devastating pandemic. In the midst of so much heartbreak, there are countless examples of groups and businesses rising to the occasion and providing critical support and assistance to those individuals and initiatives most in need. 
The determination and resilience that have always characterized America's spirit are on full display in every community across the country. Landlords are forgiving rent. Tech companies are providing free access to paid services. Distilleries are making hand sanitizer. Businesses of every shape and size are changing course, retooling and working to support healthcare professionals, first responders and thousands of other essential workers on station at the front lines of this crisis. To those personally fighting this virus, and to those supporting them, I say "thank you."
Money matters.
The financial cost of fighting the pandemic is, of course, tremendous. The good news is that more than a $1 billion has already been donated to help fight the coronavirus: Cisco has pledged $225 million: at Nike the company's leaders, the Nike Foundation and Nike have committed more than $17 million; and Unilever, through its United for America initiative, is contributing $20 million in food and services. 
At the same time, Google, the "front door" to much of the world's information. has pledged $800 million to coronavirus relief. The company is donating $250 million in advertising grants to help the World Health Organization and government agencies provide information on how to prevent the spread of COVID-19. They are also stepping up with a $200 million investment fund that will help NGOs and financial institutions provide small businesses with capital. Plus, they're giving support to help increase the manufacturing of necessary face masks and ventilators.
While these generous commitments deserve a hearty thank you, there are even more examples of the tremendous good being done by a multitude of organizations.
Influencers have the opportunity to leverage their relationships and connected communities to help spread the appropriate messages and stop misinformation. That's what encouraged the United Nations to issue a global brief to influencers and creatives. This is a global pandemic and the ability to communicate key messages on health and safety accurately is crucial. 
Per the Association of National Advertisers (ANA), "the UN has invited media partners and clients with media inventory across social, digital, streaming, broadcast, print, and radio to address personal hygiene, social distancing, knowing the symptoms, myth-busting, and donating." Interested parties can contact StrategyHub@UN.org or learn more here. Thank you.
In addition to a $5 million donation to the American Red Cross, Anheuser Busch is identifying available arenas and stadiums to be used for temporary blood drive centers and donating TV airtime to the Red Cross for public service announcements. They've also joined other manufacturers in producing and distributing much needed hand sanitizer. Their #ONETEAM initiative is a great example of corporate American doing its best to bring people together to make a positive and immediate impact in their local communities. Thank you.
I will never shop for ketchup again without thinking about Kraft Heinz and their $6.6 million donation in support of Feeding America®, the largest domestic hunger relief organization in the United States. The company is giving $1.9 million in cash to the organization and donating $4.7 million in products to Feeding America member food banks.
In total the company has pledged $12 million globally. I am sure I'm just one of many millions of consumers who will take note of the brands and companies like Kraft Heinz that are providing this critical support during this challenging time. Thank you.
Facebook Small Business Grants Program
In addition to CPGs, technology companies like Facebook are stepping up to help businesses cope with the economic impact of the pandemic. Sheryl Sandberg, Facebooks' COO announced, "We've listened to small businesses to understand how we can best help them. We've heard loud and clear that financial support could enable them to keep the lights on and pay people who can't come to work. That's why today I'm announcing that Facebook is investing $100 million to help 30,000 small businesses in over 30 countries where our employees live and work." Thank you.
It's not just companies.
This is just a small sampling of the many ways that companies of every size are stepping forward to do their share -- and more -- in the fight against the coronavirus. But, as important as these contributions are, we must also recognize the outstanding efforts of those individuals working "behind the scenes" in warehouses, on farms, in manufacturing plants and in the cabs of trucks. These men and women are providing the critical services we all depend upon. Thank you.
Every time I cross paths -- at a safe distance -- with a healthcare professional, a grocery store employee or pharmacy manager, I stop to thank them. We all should do the same. Let's spread a little love by showing our collective gratitude for all the incredible efforts happening around us. By working together and supporting one another, we're going to get through this. To all those leading the way, thank you!