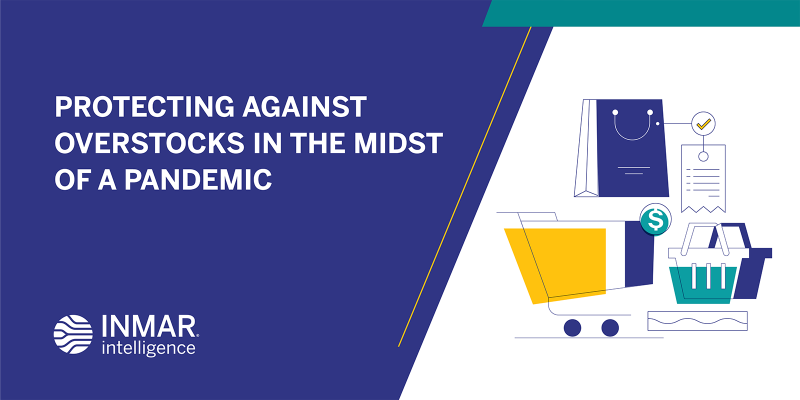 Even as shoppers continue clearing store shelves of certain staples, albeit somewhat more slowly than when the panic buying first began, changes in shopper behavior have real potential to create overstocks and allow for product expirations in many categories. With the challenge of addressing out-of-stocks foremost in the minds of trading partners, it seems almost counter-intuitive to be concerned with overstocks but the likelihood of their occurrence, and their cost to business, is very real and demands immediate attention.
There are a number of shifts in shopper behavior that are contributing to the inventory and stocking challenges currently facing every retailer. Understanding these phenomena can help brands and retailers plan and act, as necessary, to reduce the risk of costly overstocks and product expiry.
Fewer shopping trips. Fewer aisles visited in store. 
As a result of widening stay-at-home orders, growing apprehension about physical contact with hard surfaces and new information as to how the coronavirus can be transmitted, retail foot traffic has fallen and is expected to be significantly reduced for the foreseeable future. This has real potential for causing an increase in expired goods as well as potential misses on seasonal products. 
Those consumers who are shopping for groceries in store are doing so less frequently and have been coached repeatedly to spend as little time as possible in the store. This is likely to reduce impulse purchases that ordinarily help fuel sales velocity and move stock out of store.
Shoppers are also being encouraged, as an exposure-limiting tactic, to make a shopping list and stick to it. If shoppers do as instructed (and general adherence to safety guidelines seems to be on the rise) this could make it very easy for potential buyers to bypass ongoing in-store trade promotions and miss TPRs aimed at moving sluggish inventory.
More restrictions. Less discretionary spending.
The lifestyle changes being foisted on consumers are changing dining and socializing habits that could easily impact short-dated products. Spur of the moment occasions or seasonal celebrations that call for a trip to the grocery store for specialty ingredients, seasonal offerings or novelty items are being put off and that has every likelihood of keeping these products on shelf longer than usual and putting them at greater risk of expiration. 
And those events that do take place will involve fewer participants. That translates directly to lower-volume purchasing. 
Seasonal shopping has (largely) been suspended.
While food staples, cleaning supplies and certain products in the health and beauty category will remain in consistent demand. Interestingly, demand for outdoor goods, exercise equipment, casual wear, electronics and home entertainment has increased and is expected to remain high as we all settle into the "new normal."  On the down side categories such as dress apparel, luggage, seasonal goods and furniture are going to be largely "out of favor" for the rest of 2020 along with nonessential big ticket items. Retailers may find themselves with early-season overstocks of spring/summer seasonal non-staple goods as shoppers normally purchasing in preparation for warm weather activity (but now with no place to go but home) will not be placing these items in their baskets.
Add to this the cancellation of late spring school and community activities including little league sports, proms, graduations, end-of-year awards programs, etc. and typical seasonal shopping patterns will be further disrupted with ordinarily sought products left on shelf. 
Additional aggravations from e-commerce.
The explosion in e-commerce is, of course, contributing to reduced brick & mortar foot traffic and exacerbating the sales challenges referenced earlier. However, analysis of online shopping behavior reveals prejudicial purchasing in certain categories with others suffering limited sales -- adding to the potential that products in these less-visited categories could remain on shelf in greater volume and for extended periods, perhaps to the point of expiration.
So, what should trading partners do?
First, retailers should actively promote and enable safe in-store shopping. Keeping customers informed regarding changes in hours, cleaning and maintenance efforts and any limits imposed on shopper access to the store is essential. Making shoppers feel better about coming to the store is the first step to getting them (back) through the door.
Advertising remains essential. Analysis of current consumer behavior shows shoppers are still looking for deals even while they're furiously pantry stocking. Therefore, it's imperative that trading partners collaborate to ensure that in-store and online advertising is in place to direct shoppers to slower moving inventory and incentivize purchase.
Planning ahead, while difficult in these uncertain times, is imperative. Spring looks to be pretty much a bust but what opportunities does (late) summer hold? How different will fall look this year compared to last year? What's happening on the economic front and in Washington that could impact and influence production, pricing and stocking requirements? Tough questions, for sure, but resources need to be committed to finding answers. Now. Strategic planning has never been more important.
Along with assortment assessment and adjustment, determining appropriate pack size needs to be prioritized, as well. What's working in store may not be a fit for e-commerce. And, are products in the correct channel? As shoppers grow more comfortable with e-commerce, shifting store product to e-commerce fulfillment may be something to consider.
With all that trading partners must contend with in the midst of unprecedented marketplace disruption, they don't need the additional hassle of overstocks. And, as surging revenues parallel significant increases in labor cost and wholesale prices, the losses associated with overstocks must be avoided. Not an easy task, but it can be done.