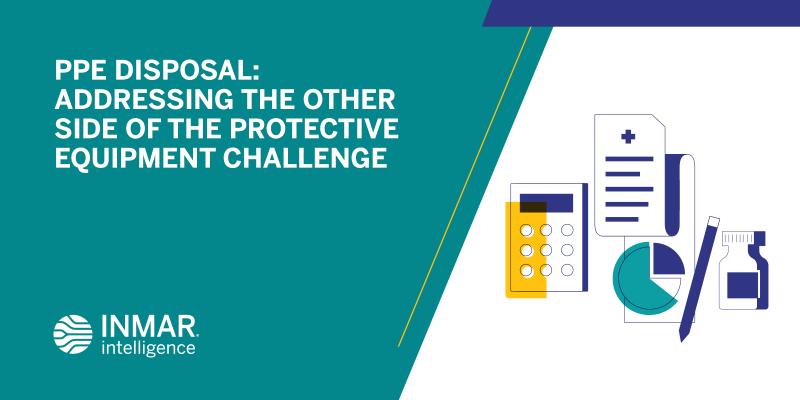 A great deal has been written and reported about the challenges faced by states, hospitals, healthcare systems and private businesses in acquiring the personal protective equipment (PPE) needed to protect providers, patients, consumers and employees. Now, the story is shifting to the very real threat posed to both public health and the environment resulting from the widespread, improper disposal of used PPE.
As pharmacies ramp up their COVID-19 testing and businesses across industry sectors establish protective protocols for workers and customers, the amount of PPE being used -- and requiring safe, after-use disposal -- is growing significantly. And, for those organizations that have not had to contend with this kind of materials handling requirement previously, safe and efficient collection and disposal of potentially contaminated PPE could be a serious and costly logistics challenge. 
But it doesn't have to be that way. With the launch of Inmar Intelligence's new PPE Disposal Solution, manufacturers and retailers of all kinds have an affordable, immediately deployable and easy-to-manage option for collecting, containing and disposing of used PPE. Our solution provides a critical level of protection to businesses, consumers and the environment...and it's available now.
Similar in structure to our Consumer Drug Take-Back solution that has, so far, helped consumers across the country safely and easily dispose of more than 89 tons of surplus and expired medications, our PPE Disposal Solution enables easy, on-site removal of masks, gloves and other forms of PPE. It's a turn-key solution that helps protect against the spread of COVID-19 while helping ensure uninterrupted operations and customer service.
At Inmar, we've been helping healthcare organizations, manufacturers and retailers operate compliantly and more efficiently for more than 40 years. But, when COVID-19 arrived, we knew we had to do even more. Our PPE Disposal Solution is just one of our latest innovations helping address our national health crisis while keeping our economy operating safely, and we believe it's going to make a tremendous impact.
I invite anyone who's interested in learning more about our PPE Disposal Solution to call me at 866.440.6917 or email me at domingo.isasi@inmar.com. 
Let's work together to protect everyone.